EDIT MODE

Many of you have probably noticed the references to Pro Plans scattered here and there on the site over the last couple of months. Now that the v3 release has stabilised, I've now managed to find time to finish the Plan features.
Plans determine the available features and resource limits imposed on each user. Rebrickable will always be free for everyone, but those who want something extra can help support Rebrickable by upgrading their Plan to one of the new paid-plans described below.
Don't Panic! - Every feature you are currently using is still free!
The Plans
The Pro Plan for $4.90/month or $49/year is designed for users with large LEGO collections, or those who simply want more control over how things work.
The Designer Plan for $9.90/month or $99/year is catered more towards MOC Designers who would like help promoting their creations.
Free
-
25
25
10
500
5,000
500
10
0
Pro
per month
$4.90
50
50
50
2,000
10,000
5,000
100
7
Designer
per month
$9.90
50
50
50
2,000
10,000
5,000
100
7
There is a new page in your profile called Plan. From here you can see the different pricing and term options. You can pay via Credit Card (uses Stripe as the payment processor) or PayPal.
Each Plan is subscription based - when the monthly or yearly term is up, it will be automatically renewed to ensure you don't lose access. You can always cancel the subscription at any time which will stop the next renewal and still leave you on the Plan until it expires.
What happens to the Free stuff?
Don't worry - everyone is free to continue using Rebrickable at zero cost, and this will always be the case. I will continue to release new features and enhancements for the Free users as well as the Pro/Designer users.
I'd like to think the past 5 years has shown my dedication and passion for providing amazing features to the LEGO community. That's not changing!
Why Plans?
Rebrickable started out purely as a hobby for me, but has grown to the stage where I need to invest significant time and money into it just to keep it going. The v3 release added so much new functionality, the cost of running it all has tripled! Luckily I've managed to stay ahead of the costs so far as Rebrickable earns enough to cover it's expenses (well, most months!).
However, the various income streams are highly variable and sometimes drop to near-zero with no warning. Plus, ads are spammy and we all hate them - I'd love to be able to turn them off.
To ensure Rebrickable has a strong future, I need a more reliable and predictable income stream. I needed to come up with something new that won't be diluted by all the other LEGO fan sites out there. I don't want to compete with any of them, and the nature of affiliate sales goes against that desire. I think the Pro Plan is a great solution and is something Rebrickable can uniquely offer. And it will only get better over time.
Why should you Upgrade?
I realise Rebrickable offers so much awesome free stuff, there's probably little incentive to start paying for extras.
If the features listed below don't do it for you, just know that you would be helping support Rebrickable and ensuring it sticks around for years to come.
For the cost of a coffee (or beer) a month, you can join the Pro ranks and show your support.
Extra Features - Pro Plan
The Plans page has the list of extra features, reproduced here:
Higher Limits
Store your huge LEGO collection in our database with a much higher storage quota.
Automatic Backups
Backups of all your lists (Set Lists, Part Lists, Custom Lists) are taken automatically every day, giving you some peace of mind that your LEGO collection will remain accurate. Any mistakes can easily be undone by recovering from a backup.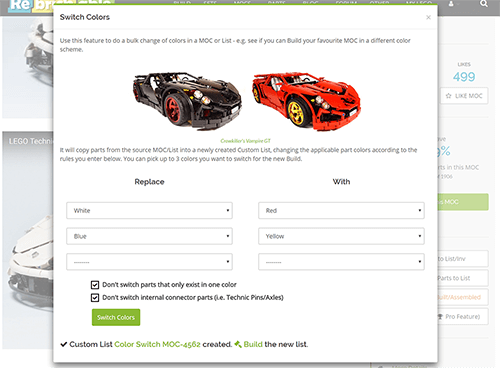 Store Favourites/Blacklists/Filters
Keep track of the stores you like and the ones you don't like by marking them as Favourites or Blacklisted. Favourite stores are highlighted in any listings allowing you to quickly find them. Blacklisted stores are not shown in any listings until you remove them from your blacklist.
There are also additional store filters to hide affiliate stores such as Amazon, eBay and LEGO Shop.
Personalisation Settings
Play around with some extra settings such as banner/page colors, more screen widths.
You can also tweak how the menus work, e.g. disabling the sticky header and adding drop down menus for your Set/Part Lists directly from the topbar navigation.
Part Notes and Set Notes
You can attach extra notes to individual sets and parts in your LEGO collection. These notes can contain whatever text you want. There are also a few extra special purpose fields - Location, Is Used, Is Stickered - that you can use and will show up in the drill down filters when browsing your sets and parts for easier categorisation and searching.
Custom Color Matching
When the Build Engine is in Similar Color matching mode, based on your settings, it modifies the colors of each part to get better matching. Instead of using the defaults, you can customise what colors are considered "similar" enough to be a match.
Build Color Switching
For any Set/MOC/List, you can easily swap it's colors around. For example, say you like a MOC of a red supercar but don't have many red parts. Switch the red to another color, say white, and then see what your new Build matching % is.
It's smart enough to not change special purpose parts or those that only come in a single color.
Advanced MOC Analytics
For MOC designers (i.e. anyone who has submitted a MOC to Rebrickable), you can see more analytics data (3 months vs 1 month on Free Plan). Plus track more statistics such as Likes, Downloads, Follows, Unfollows per day.
Extra Features - Designer Plan
In addition to the Pro Features listed above, the Designer Plan has some extras.
Prioritised Promotions
Rebrickable contains several "Featured MOC" spots which display a MOC in a prominent location for users to discover. MOCs from designers in the Designer Plan will be given priority and receive a much higher % of the views. You can also promote your free MOCs, not just the Premium ones.
Advanced MOC Analytics
View the last 6 months of data, or you can export the whole lot to CSV files for your own custom analysis.
Your MOC views are separated into "normal" and "promoted" views. If the user found your MOC via one of the various "Featured MOC" spots on Rebrickable, it is counted as a promoted view.
View your Top Designer ranking over time (not just the top 20), to help see the impacts of your MOC submissions.
Premium MOC Discounts
The normal fee for submitting Premium MOCs depends on how many existing MOCs you have already submitted. However, if you are on the Designer Plan the cost is always capped at USD $5 each.
Social Media Promotions
Rebrickable sometimes shares MOC submissions via it's social media channels when it is expected they will be popular. As a member of the Designer Plan, every Premium MOC submission will be shared with the thousands of Rebrickable followers.
Current social media pages are: Facebook, Twitter, Google Plus and Instagram. These may change as I try other platforms.