EDIT MODE

Review: 31088-1 - Deep Sea Creatures
For most LEGO sets, we get our inventories directly from LEGO. However, for B-models, sub-sets and small sets, we depend on member input, most importantly for the inventories of such sets. How to select, create and submit inventories for B-models, sub-sets and small sets, that is the main subject of this basic review of set 31088-1 - Deep Sea Creatures
Contents:
Introduction
In my previous review, of set 31086-1 - Futuristic Flyer, I introduced B-models and sub-sets as LEGO sets that only Rebrickable knows about. To recap:
B-models are alternate builds for which LEGO provides additional instructions. From the parts of a set you can either build the main model, or one of the B-models, but not all at once. B-models are common in Creator 3-in-1 and Technic 2-in-1 themes.
Sub-set are also alternate builds for which LEGO provides instructions, but from the parts of a set you can build all the sub-sets at once. Small sub-set are common in the Classic theme, but other, more interesting examples are individual cars from the larger Speed Champions sets, individual cars or buildings from City or the individual locomotive and wagons from Train sets.
For these sets, we can't get inventories directly from LEGO, so we fully depend on member input. The same applies for small sets like polybags, magazine gifts and Monthly Mini Models Builds. To submit new sets, Rebrickable has a Submit Set option in the main menu, but that feature is only available for members with level 5 or higher, and you'd need to provide a good set number, set name and photo for the new set. If you only want to Submit an Inventory, you don't need a photo, and this feature is available for members with level 3 or higher.
The next three paragraphs will provide a small tutorial on how to select an inventory, how to create one, and how to submit it.
Select an Inventory
In order to create a list of sets that are in need of an inventory, I created a special tag, Needs Inventory, that lists all small sets, B-models and sub-sets for which we don't have a good inventory. The list currently contains 20 sets, but I will add more in the days to come.
If you want to add an inventory to one of these sets, then please start the Submit Inventory option in the main menu, and finish Step 1. After pressing the Save and Next Step button, the inventory is in progress, and if anyone else tries to start the same inventory, a warning message will be displayed, to prevent people from working on the same inventory.
If you don't have the level required to Submit an Inventory, then submit a Change Request announcing your intention to create an inventory and request a temporary removal of the Needs Inventory tag. Once the tag is removed by an Admin, you can start creating the inventory.
Create an Inventory
Creating an inventory for a B-model or a sub-set is usually easier then creating an inventory for a small set, because for B-models and sub-sets we already have an inventory of the main set, so it is very easy to find the parts needed for the B-model or sub-set.
Start by creating a new Custom List, name it "A New Inventory" and make sure you check the Visible to Other Users box. If you name the Custom List as suggested, it will appear at the top of the overview on the left side of the screen, and you won't need to use the drop-down box later on. By making the list visible to other users, you can copy and paste a link to it in a Change Request if your level isn't high enough to submit an inventory.
There are four ways to add parts to the new Custom List:
You can build the B-model or sub-set, take it apart, sort the parts, and add each part/color combination.
You can download the instructions, and add the parts for each individual step.
You can use Studio to build the B-model or sub-set virtually, and upload the .io file
You can use Studio to download the inventory from Bricklink, and move all parts needed for the B-model or sub-set to a new Studio model, and then upload the .io file.
If you use Rebrickable to add individual parts, then goto the inventory of the main model, click on the part/color combination you want to add, click on Add part to List/Inventory, set the quantity (behind Spare), check My Custom List (note that A New Inventory is already selected) and press Add Part.
If you use Studio, then select File > Import > Import Official LEGO set to get the full inventory from Bricklink, and use those parts to either build the B-model or sub-set, or move the needed parts to a new model. Don't worry about Unknown parts (boxes with a question mark), those can't be displayed properly, but they will be included in the .io file, and will be imported properly. When finished, save the model and use the Import function to add the parts to you Custom List. Remember to select Bricklink as External Source before importing.
Once your Cursom List is complete, make sure you check it by using the Compare Sets function. If you compare your Custom List with the original main model inventory, there should not be any parts in your Custom Lists that are not in the main model inventory.
Submit an Inventory
If you have level 3 or higher, you can now export your Custom List to a Rebrickable csv file, go back to your inventory in progress, and import the Rebrickable csv file. Then you can submit the inventory. If you level is not high enough, then copy the URL of your Custom List, and create a Change Request stating the inventory of the B-model or sub-set is finished, and add the URL of your Custom List.
The Set
Enjoy sea life adventures with the LEGO Creator 3in1 31088 Deep Sea Creatures set, featuring a scary shark toy with a realistic dark-blue and white color scheme, opening mouth full of pointy teeth, moving fins, movable body joints and reflective eyes, plus a posable crab with a box of treasure. With LEGO Creator 3in1 play sets you get 3 different build and play experiences. Build the Shark and crab toys, and then rebuild them to create a posable Squid or a wide-mouthed Angler Fish for even more deep sea fun. [1]
Deep Sea Creatures is the fifteenth in a series of animal/creature models within Creator 3-in-1, which started in 2007 with set Monster Dino. Here's an overview of the animal/creature models so far: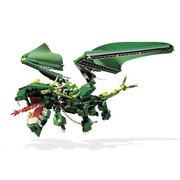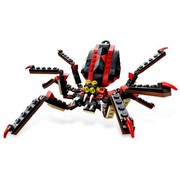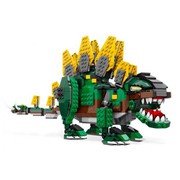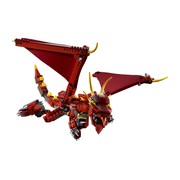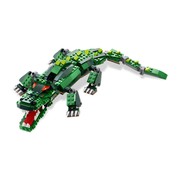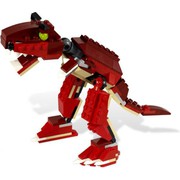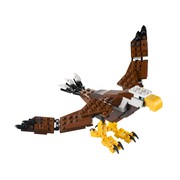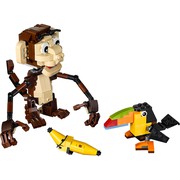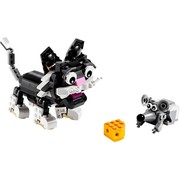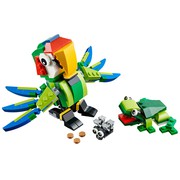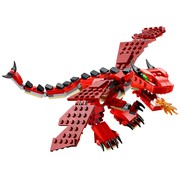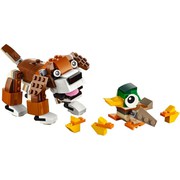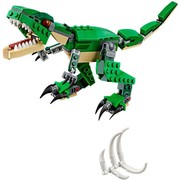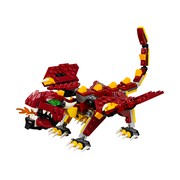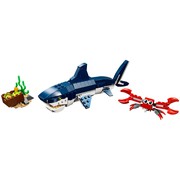 The set was designed by Morton Rauff, who has been working at The LEGO Group as a Product Designer since July 2012, and who was also responsible, among others, for: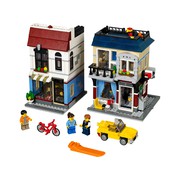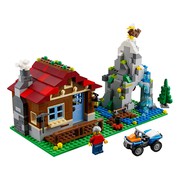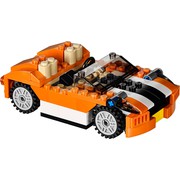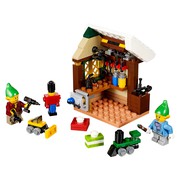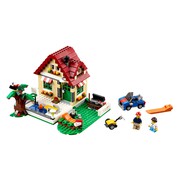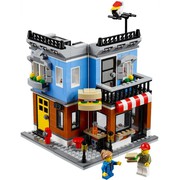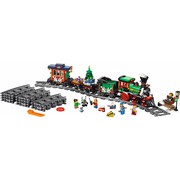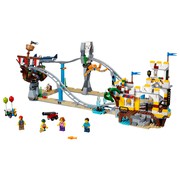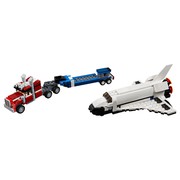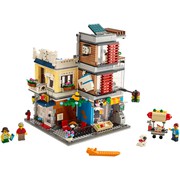 The Box
The box measures 26.2 x 4.8 x 14.1 cm and weighs 313 gram. It contains two unnumbered bags with parts and the Build Instructions.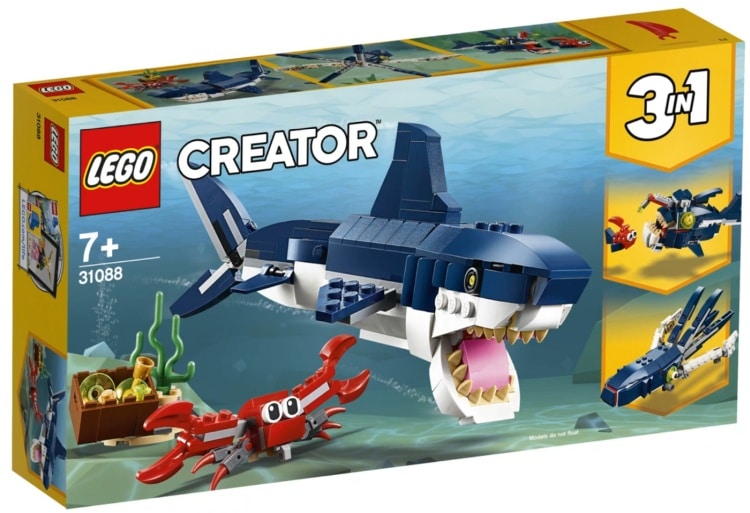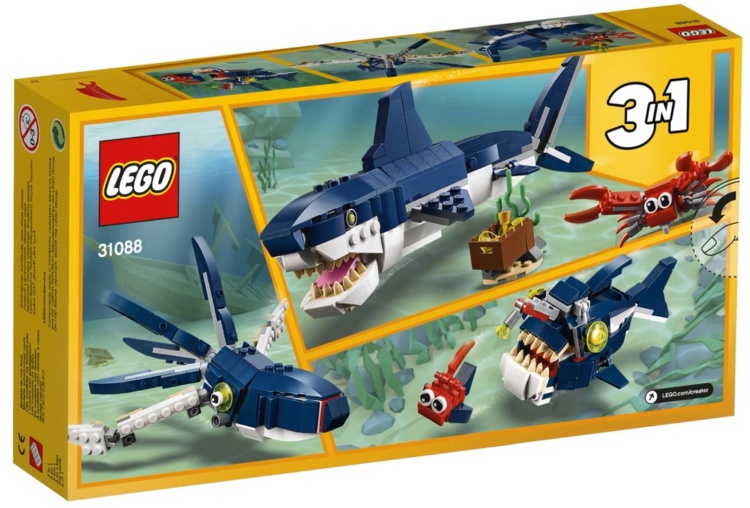 The Instructions
Each model has its own instruction booklet, all measuring 125 x 197 mm:
Main Model: Shark (6263536) contains 68 pages and 85 steps.
Second Model: Squid (6263537) contains 36 pages and 55 steps.
Third Model: Angler Fish (6263540) contains 40 pages and 55 steps.
At the Building Instructions website, LEGO offers PDF instructions for a fourth model:
Fourth Model: Whale contains 32 pages and 49 steps.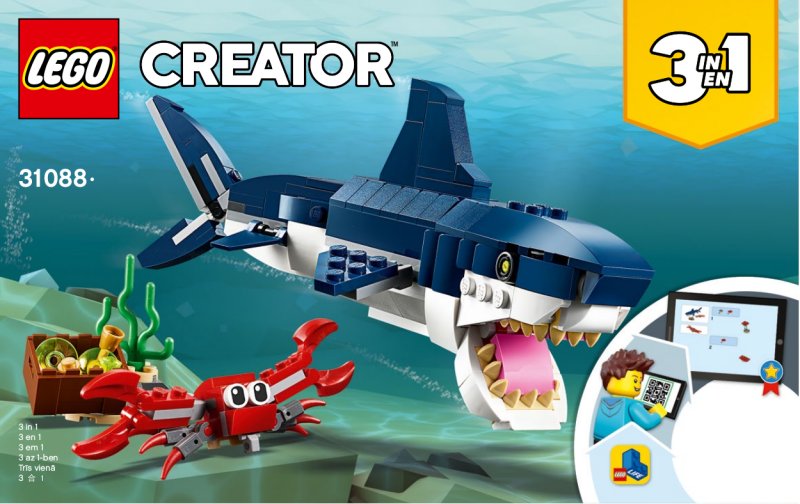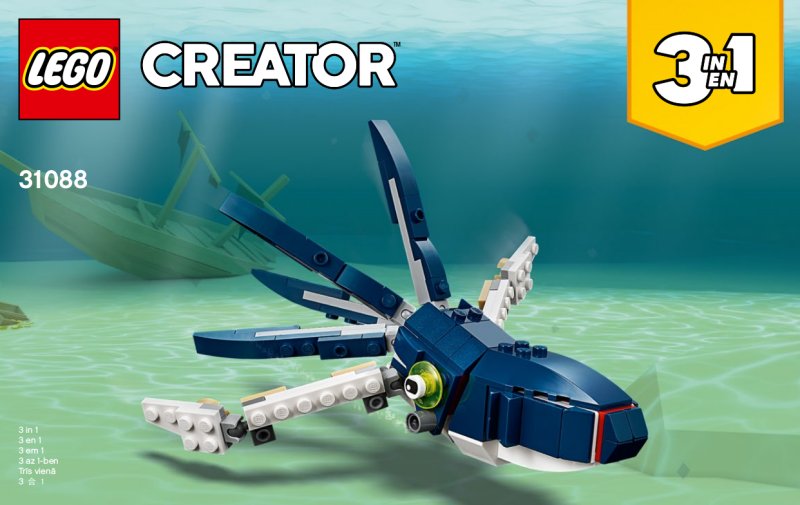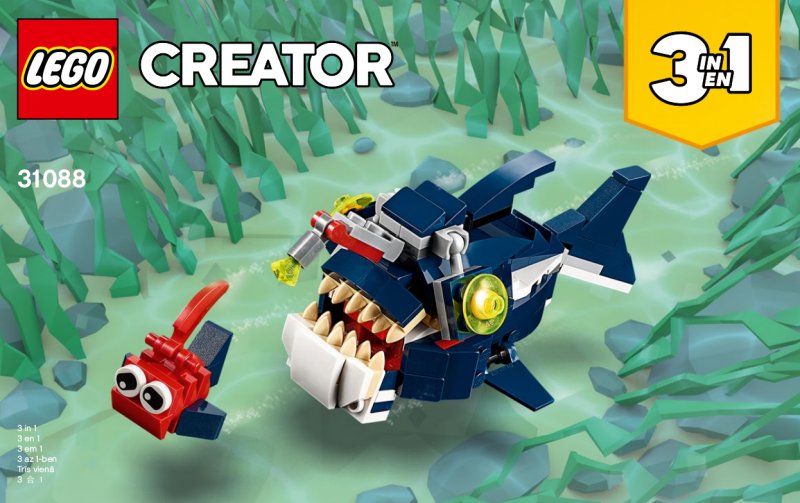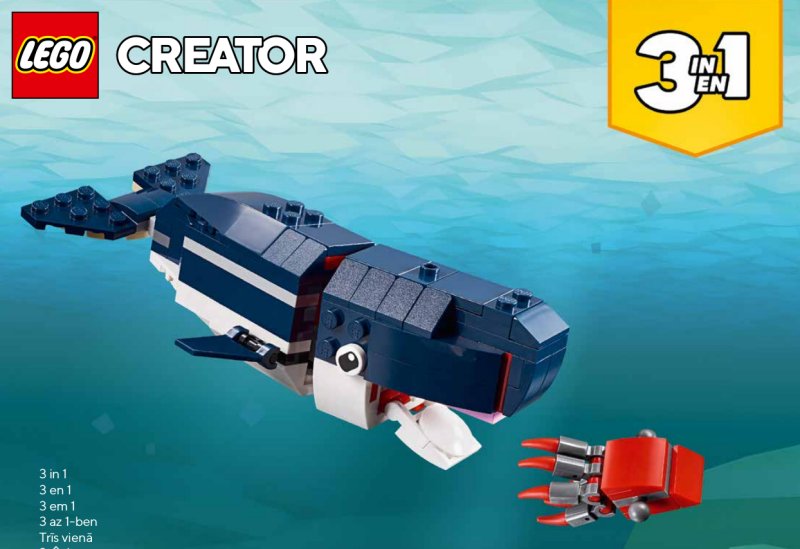 The pdfs can be downloaded here.
The Parts
The set contains 230 parts and 8 spare parts, in 12 different colors, and 20 different categories, with a total of 83 unique parts/color combinations.
Main colors are:
Main categories are:
The LEGO shop price is €17,99, Brickset list the RRP at $14.99, but Bricklink offers new sets as low as €9,85. I've got mine for €11,04. Price per part is 7,8 ct (official) or 4,8 ct (discount).
There are no unique parts, and only two rare colors: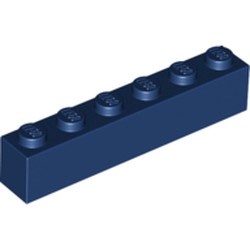 The Build
A-Model: Shark
The shark is a modular build: head, middle body, back body and tail are build seperately and connected with double ball-joints which allow only litle horizontal movement. I think the Shark looks terrific, and it deserves to be a sub-set. The little red Crab is so cute, it also deserves its own sub-set. The Treasure CHest, however, is not a real build, and doesn't need a sub-set.
Shark measures over 3" (8cm) high, 8" (21cm) long and 3" (9cm) wide. Crab measures over 1" (3cm) long and 4" (11cm) wide.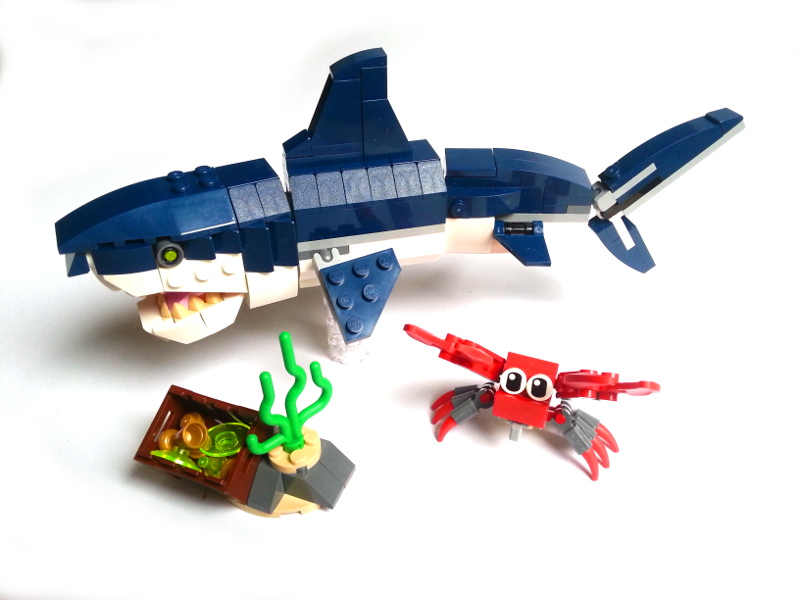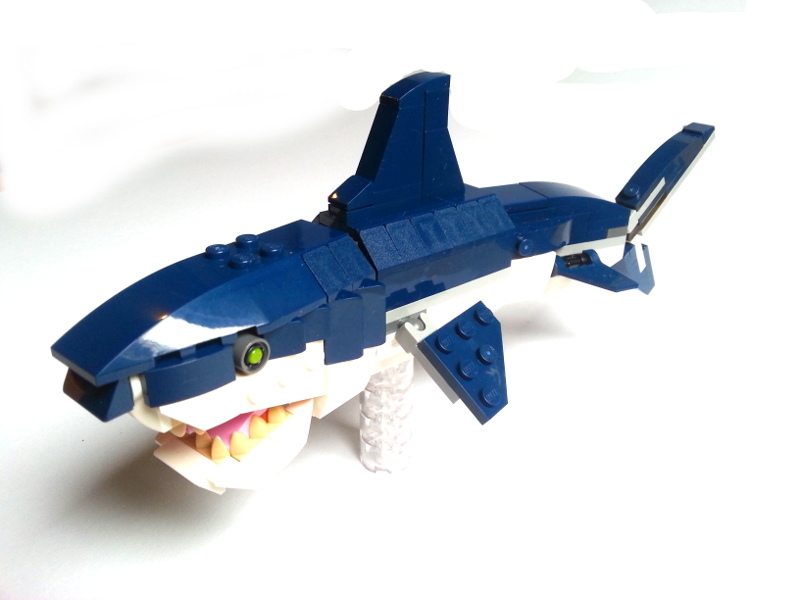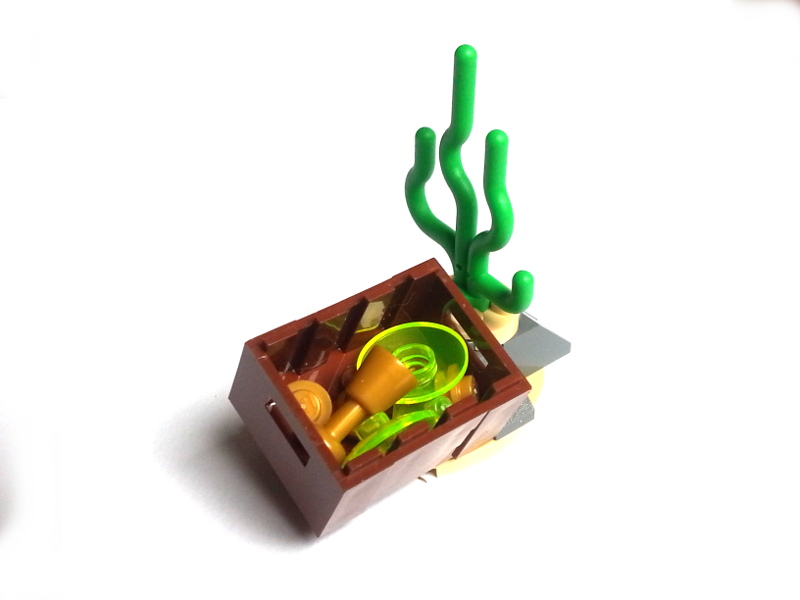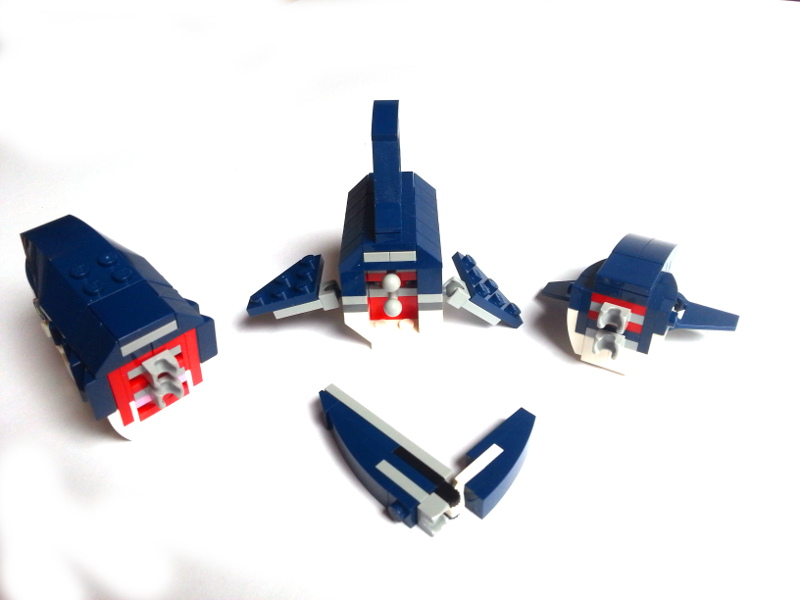 B1-Model: Squid
The Squid is a good B-model: it is easy recognizable, and differs enough from the Shark to allow different building techniques.
Squid measures over 1" (4cm) high, 7" (18cm) long and 8" (22cm) wide.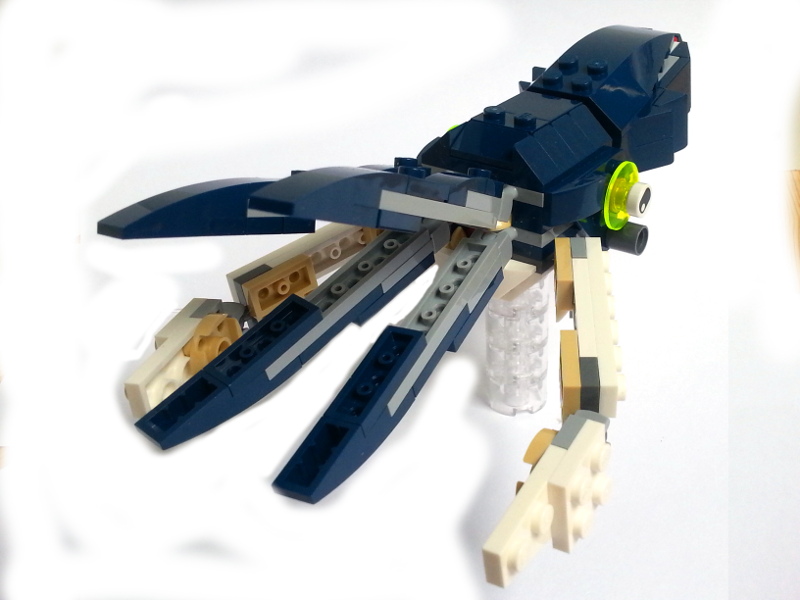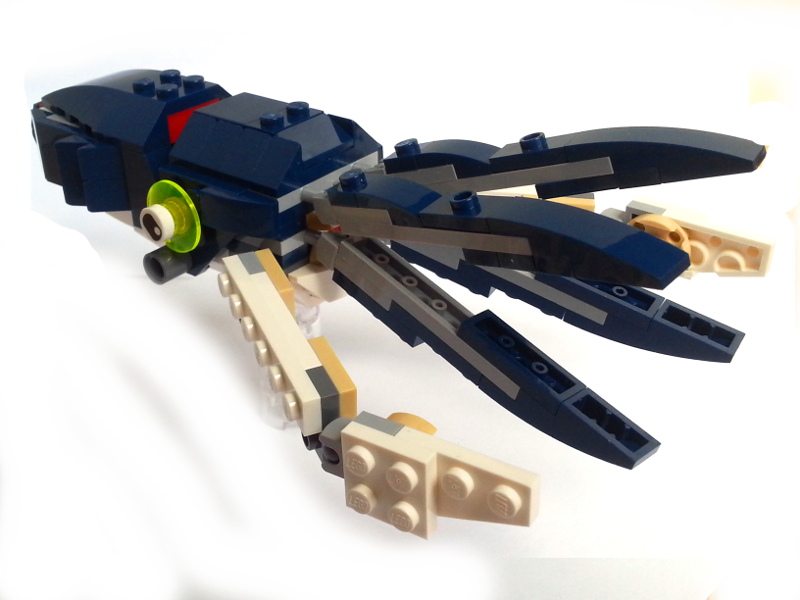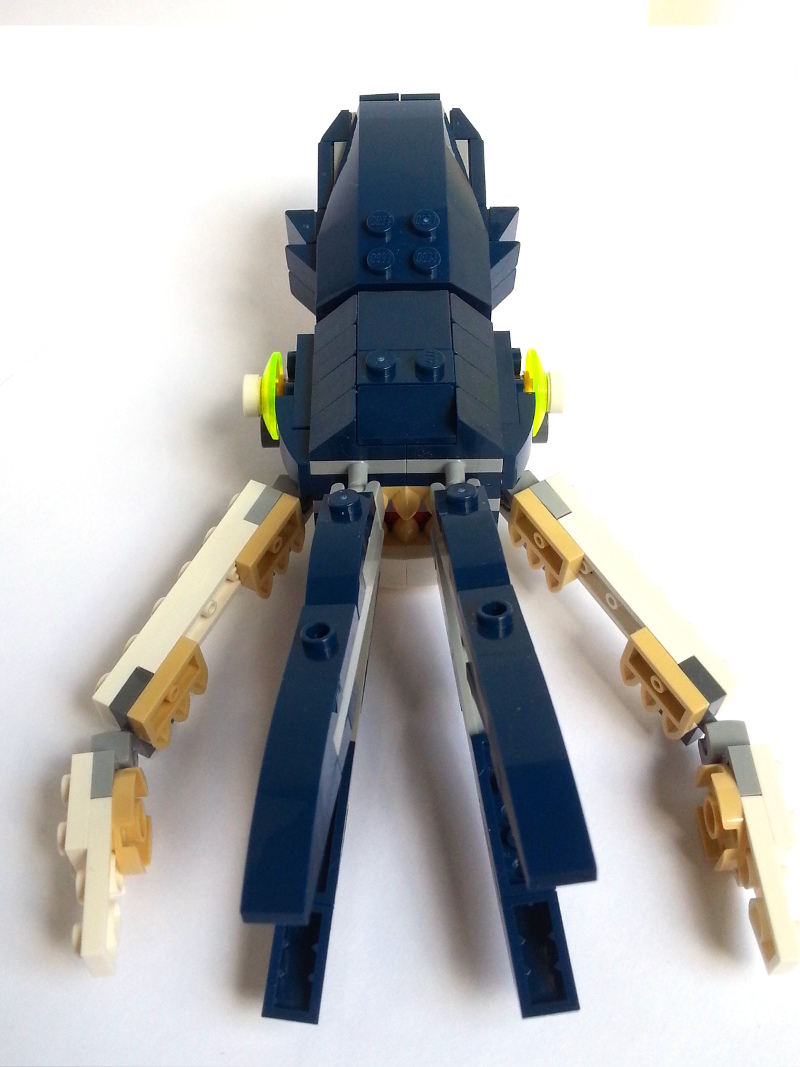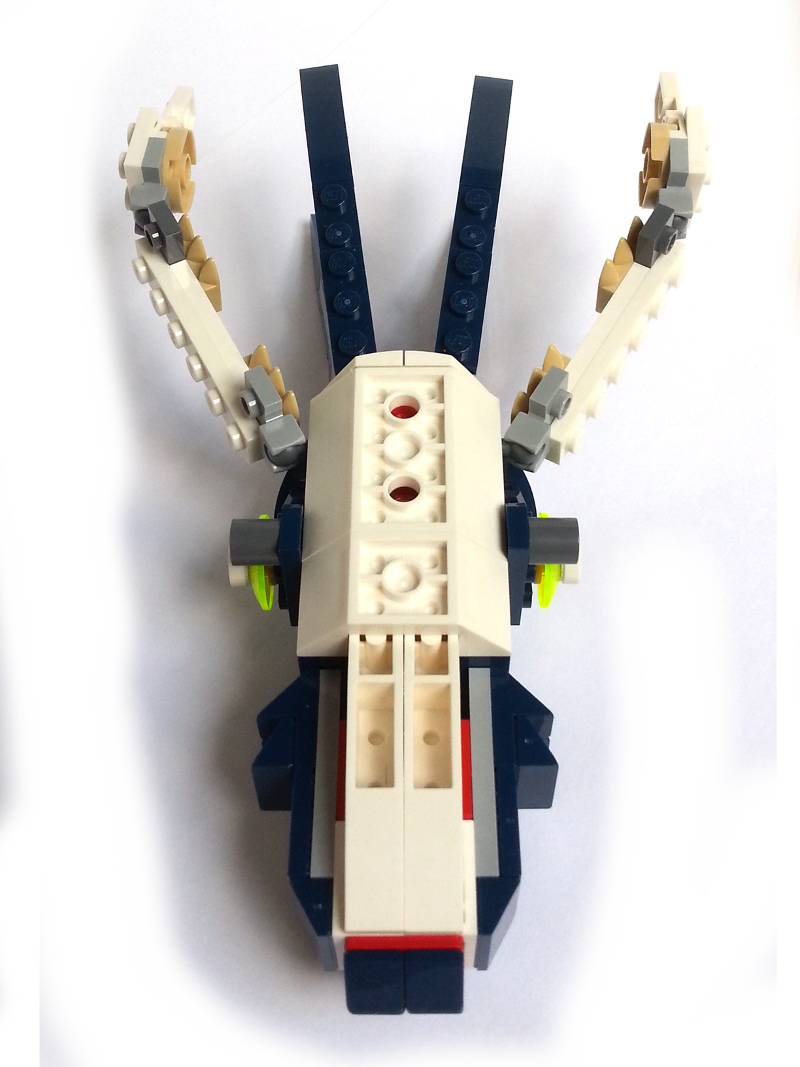 B2-Model: Angler Fish
I really liked the Angler Fish; it looks very scary. Note that the eyes and the chrystal in front of the teeth are Trans-Neon-Green, and in darkness, when lit with a bluish LED light, they light up as if they were Glow-in-the-Dark.
Angler Fish measures over 1" (5cm) high, 5" (14cm) long and 3" (8cm) wide.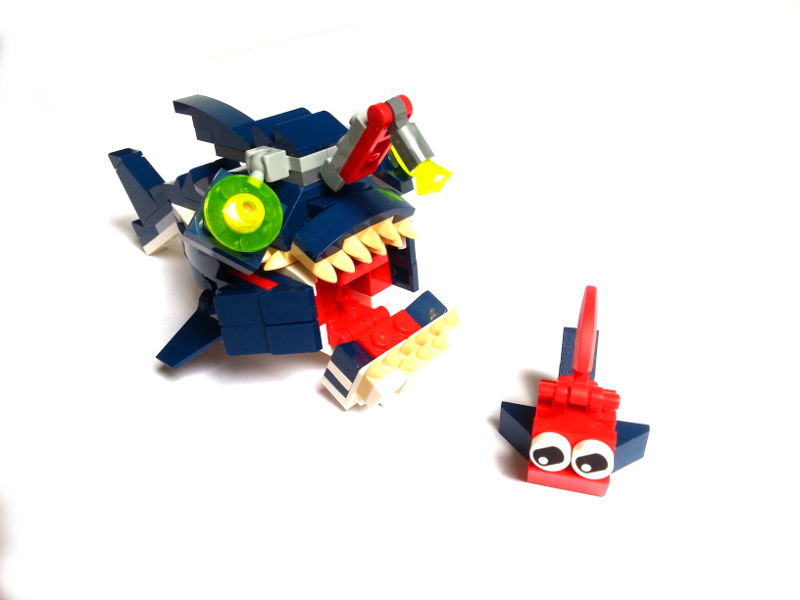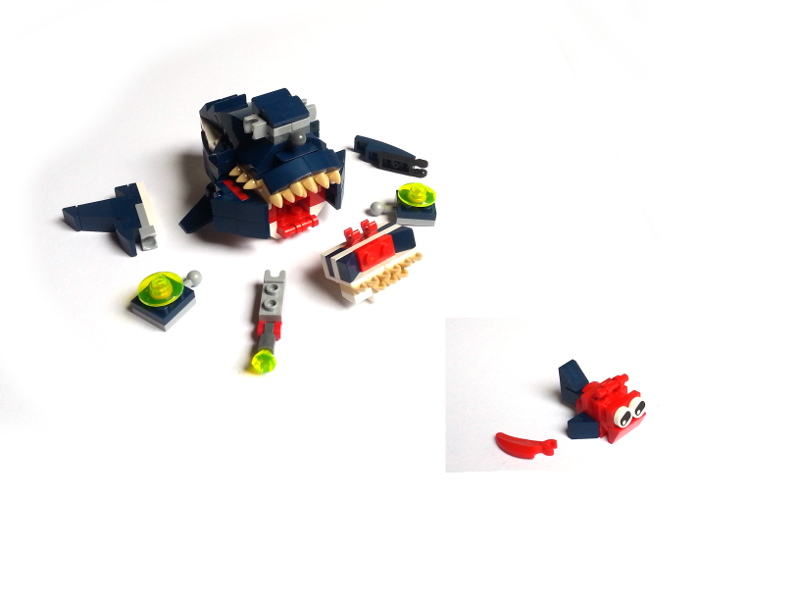 B3-Model: Whale
I really wanted to build the whale, but halfway writing this review, I had some health problems, and I wasn't able to finish the build. Note that this set also has ten Alternate Build MOCs, nine of which are free. In other words, with a little help from Rebrickable, this single set allows you to build 13 different models.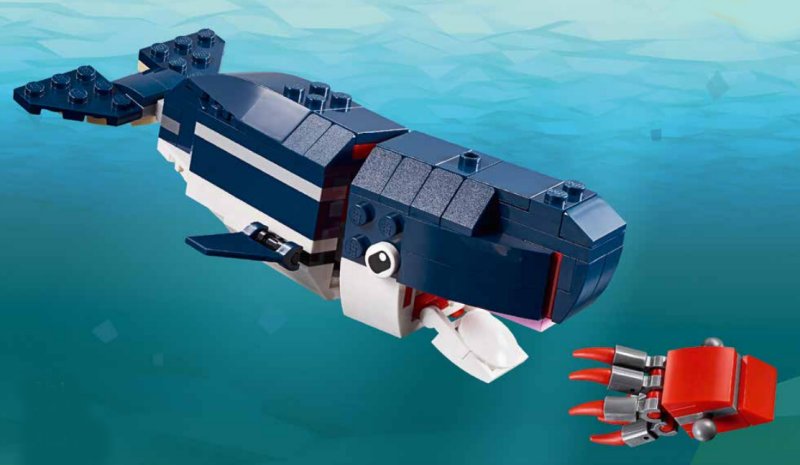 Conclusion
This is a really nice set: good colors, creative building, and 13 different builds if you add the free Alternate Build MOCs that Rebrickable currently offers. You can't go wrong with this set.
One single complaint: the set should have included transparent 4x4 round plate and four or five transparent 2x2 round bricks to give the shark and the other animals the illusion of actual swimming. Putting these poor animals flat on their bellies doesn't really work. LEGO should have added some kind of stand.
Take care,
Simon
References
[1] - Deep Sea Creatures (LEGOShop)
Disclaimer: Anything said in this post is the opinion of the author and not The LEGO Group.
Build photographs by Simon (© 2019 Rebrickable)