EDIT MODE

Review: 41608-1 - Han Solo
Rough edged, knuckly midgets with flat faces, no mouth and creapy little hands, and for some reason, everybody loves them. What are these ugly Brickheadz all about?
Contents:
Introduction
When the Brickheadz theme was officially released three years ago, I didn't understand the hype. They seemed to be collectibles, and I am a builder, not a collector. Furthermore, they were really expensive; 40 dollars for a two-pack with only 220 parts, that's 18.2c per part, even more expensive then Star Wars. I am not going to pay 20 euro or so for an ugly little midget.
But then, a few month ago, I ran into some discounts: Wonder Woman and Aquaman, each for only 4 euro. That's something I can't resist, and so I bought them. And guess what? The build experience is actually really good, it's fun and interesting. The models are not hollow, as I expected, but they are solid and sturdy; the colors are nice browns and tans, and the parts are really useful, with lots of SNOT parts and small slopes. Within a few weeks, I had bought another dozen of them, and the more I got, the more I liked them. I am not going to become a collector, but if I have the chance, Benny and Emmett will surely follow, as will Mickey and Minnie.
So I figured I would do few basic reviews of some of these Brickheadz, starting with Han Solo and Chewbacca, and, in a few weeks, two seasonals, Valentine's Bee and Easter Bunny. I know, they were all released in 2018, but they are still available in shops, and if you search a bit, you can get them pretty cheap. Who knows, you might actually become fond of them. If you have any requests for other Brickheadz, please let me know in the comments.
The Set
This LEGO BrickHeadz 41608 Han Solo figure is fun to build using colorful LEGO bricks that recreate all of his iconic details from the Star Wars saga, including a brown jacket and utility belt. He also has a detachable blaster and stands on a buildable collector's baseplate with BrickHeadz logo for easy display in your home, office or anywhere you like. [1]
Note that this quote from the LEGO shop is wrong: the set does NOT contain a "collector's baseplate with BrickHeadz logo", both on the back of the box and in the instructions booklet a plain 87079 - Tile 2 x 4 with Groove is shown, not a printed tile. And indeed, the plain tile is included with the set. If any of you has a set with a printed tile, please let us know. It might be that there are two versions of the set being sold.
Both Han Solo and Chewbacca were designed by Justin Ramsdon.
Han Solo is currently available at the LEGO Shop for $7.99 (discount), with 7 VIP Points, and a recommended age of 10+. The set is part of the Star Wars character sub-series, which currently consists of 10 individual models in 12 different sets. Here's an overview of all Star Wars Brickheadz sets:
The Box
The box measures 91 x 78 x 122 mm and weighs 132 gram. It contains two unnumbered bags with parts, a loose black 3958 - Plate 6 x 6 and the Build Instructions.
The Instructions
The instruction booklet (BI - Build Instructions 6234417) measures 10.2 x 14.7 cm and contains 44 pages and 37 steps.
The pdf can be downloaded here.
The Parts
The set contains 141 parts and 8 spare parts, in 10 different colors, and 11 different categories, with a total of 51 unique parts/color combinations.
Main colors are:
Main categories are:
The LEGO shop price is $7.99, Brickset list the RRP at $9.99, but Bricklink offers new sets as low as €4,79. I've got mine for €4,99. Price per part is 5.6 ct (official) or 3,5 ct (discount). The Bricklink Part-Out Value varies from US $16.88 (parts and spares) to US $17.59 (with instructions and box).
There are two unique parts:
1x Black 3245cpr0134 - Brick 1 x 2 x 2 with Inside Stud Holder with Black Shirt Lapel print
1x Medium Dark Flesh 3005pr0015 - Brick 1 x 1 with Nametag, Controle Panel print
and one rare color:
2x Reddish Brown 50950 - Slope Curved 3 x 1 No Studs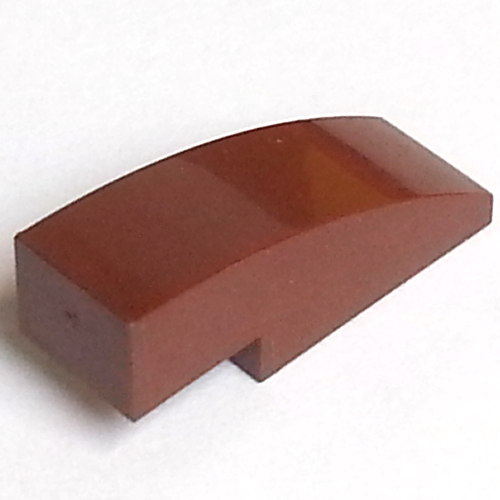 Note that the Reddish Brown 50950 - Slope Curved 3 x 1 No Studs has only occured within 41597-1 - Go Brick Me, 41608-1 - Han Solo and 41609-1 - Chewbacca, so this part/color combination is unique to the Brickheadz theme itself.
The Build
The basic structure for any Brickheadz is something like this:
a 2-plate high base
4-plates high legs
1-brick/3-plates high hips
2-bricks/7-plates high torso
4-bricks/5-bricks high head
The build starts with the hips/torso block (9 plates high), and then adds both hands. Then the 4 bricks high head block is added with a standard configuration of twelve "3S" bricks (Single Sided Snot's), namely 22885 - Brick Special 1 x 2 x 1 2/3 with four studs on one side. Each side of the head is then dressed with plates and slopes. Finally, the legs and the gun are added, and the model is placed on its 6x6 plate. As mentioned earlier, that base does not have a printed tile with the Brickheadz logo and the series number, which many of the other Brickheadz do have.
Conclusion
From all the Star Wars related Brickheadz, I fear Han Solo is one of the least recognizable. The two other less recognizable characters, Luke Skywalker and Ray were teamed up with Yoda and Kylo Ren, and next to each other, they make more sense. This is also true for Han Solo. Next to Chewbacca, it is immediately obvious who he is, and LEGO probably should have sold them together.
In any case, you get 14 of those "3S" bricks (part 22885 - Brick Special 1 x 2 x 1 2/3 with four studs on one side), a good selection of slopes and plates, good colors like Tan, Medium Dark Flesh and Reddish Brown, and if you want to keep the model on display, it has an additional advantage: Brickheadz are very easy to keep clean...
Take care,
Simon
References
[1] - Han Solo (LEGOShop)
Disclaimer: Anything said in this post is the opinion of the author and not The LEGO Group.
Parts- and build photographs by Simon (© 2019 Rebrickable)