EDIT MODE

Review: 41609-1 - Chewbacca
In this second review of Brickheadz sets, we delve into history to show you a complete visual overview of the theme, and we take a closer look at Han Solo's furry companion, the Wookiee Chewbacca.
Contents:
History
For a basic overview with model images you can select the Brickheadz theme, sort on Year or Setnumber, and see all the 77 sets that we currently have in our catalog. Lists like that can be found elsewhere on the Internet, but they don't really show what actually happened. So lets follow the history of the Brickheadz theme in a bit more detail.
2016
During the Comic-Con International 2016, which was held July 21-24 (with Preview Night on July 20) at the San Diego Convention Center, LEGO introduced the first four, exclusive two-packs. The sets featured DC and Marvel heroes, and were available one set per day. They retailed for $40 per two-pack. Buyers needed to participate in a random drawing in the Pavilion Terrace around 7AM daily to be able to purchase later in the day at the LEGO booth.
Exclusives
San Diego Comic Con
2017
In March 2017 the theme was officially released for the general public, with VIP members being able to purchase sets in February. Series 1 consisted of 12 sets, all on a Black 3031 - Plate 4 x 4 with an additional printed tile; part 87079pr0124 - Tile 2 x 4 with White Squres in Black Circles and Red Number 1 Pattern.
Series 1
Exclusives
The second half of 2017 featured 10 new sets, all exclusives.
Exclusive via LEGO Brand Retail and, in limited quantities, Target, Walmart and Amazon:
San Diego Comic Con:
41496-1 - Supergirl & Martian Manhunter (July 20th to 22nd) (#13/#14)
41497-1 - Spider-Man & Venom (July 20th to 22nd) (#15/#16)
Star Wars New York Comic Con:
41498-1 - Boba Fett and Han Solo in Carbonite - New York Comic-Con 2017 Exclusive (October 2017) (#27/#28)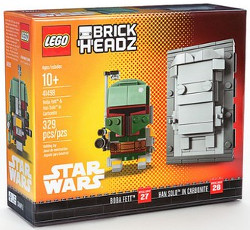 LEGO Brand Stores Exclusive Build: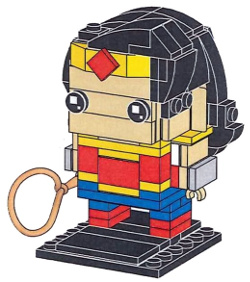 LEGO Billund 2017 Inside Tours:
TBH-1 - Nonnie (NOT IN OUR CATALOG YET)
Series 2 preview - Target and LEGO Brand Retail:
41489-1 - Rey & Kylo Ren (December 2017)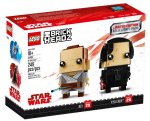 2018
Series 2
Series 2 featured six individual Brickheadz, and a two-pack preview in December 2017, all on a Black 3958 - Plate 6 x 6, with an additional printed tile: 87079pr0143 - Tile 2 x 4 with White Squares in Black Circles and Red Number 2 Print.
Numbered Series
In April 2018 LEGO abandoned the Series tag and started releasing individually numbered sets. beginning with the Seasonals (29-34). The numbered series started with 35 (41604-1) and ran upto 79/79 (41632-1). Number 57 (40316-1) has not been released.
Exclusives
Amazon Exclusives:
Available at the store at People's Square:
SHIMAO-1 - Shimao BrickHeadz (November) (NOT IN OUR CATALOG YET)
Seasonals:
The 2018 seasonals were numbered 29 (40354-1) to 33/34 (40274-1).
Not yet released:
Specials:
The Go Brick Me set featured more then 700 parts and allowed the creation of two BrickHeadz toy figures using the specially selected LEGO bricks for different hairstyles and skin color, plus there are two kinds of glasses, a sticker sheet to personalize your builds, and a brick separator.
41597-1 - Go Brick Me (April 18th)
BHBIGBOX-1 - Includes the Series 1 releases plus the 41485-41488 range (NOT IN OUR CATALOG YET)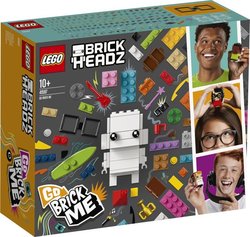 2019
Seasonals
The 2019 seasonals are numbered 81 (41349-1) to 85/86/87 (40353-1), and #92 (40348-1). Some of these have not been released yet.
Not Yet Released: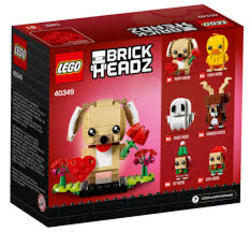 Exclusives
Walmart exclusives (US) - limited to 5000pcs:
Target Redcard exclusives (US) - limited to 5000pcs:
Specials:
6278983 - Beijing Brickheadz (NOT YET IN OUR CATALOG)
Note: this Brickheadz history is as complete as I could get it. If I made any mistakes, or left something out, please comment, so I can correct my errors. My sincere thanks to Stephen for providing much of the information listed above!
The Set
This LEGO BrickHeadz 41609 Chewbacca toy figure is fun to build using colorful LEGO bricks that recreate all of his iconic details from the Star Wars saga, including matted fur and ammunition belt. He also has a detachable blaster and stands on a buildable collector's baseplate with BrickHeadz logo for easy display in your home, office or anywhere you like. [1]
As with Han Solo this quote from the LEGO shop is wrong: this set does NOT contain a "collector's baseplate with BrickHeadz logo", both on the back of the box and in the instructions booklet a plain 87079 - Tile 2 x 4 with Groove is shown, not a printed tile. And indeed, the plain tile is included with the set. If any of you has a set with a printed tile, please let us know. It might be that there are two versions of the set being sold.
Both Han Solo and Chewbacca were designed by Justin Ramsdon.
Chewbacca is retired at the LEGO Shop, but still available at Amazon and other resellers. The set has a recommended age of 10+. The set is part of the Star Wars character sub-series, which currently consists of 10 individual models in 12 different sets. Here's an overview of all Star Wars Brickheadz sets.
The Box
The box measures 91 x 78 x 122 mm and weighs 136 gram. It contains two unnumbered bags with parts, a loose black 3958 - Plate 6 x 6 and the Build Instructions.
The Instructions
The instruction booklet (BI - Build Instructions) measures 10.2 x 14.7 cm and contains 40 pages and 36 steps.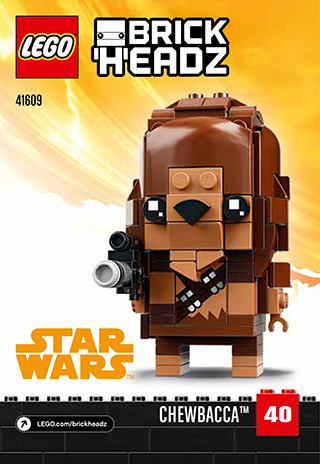 The pdf can be downloaded here.
The Parts
The set contains 149 parts and 11 spare parts, in 15 different colors, and 11 different categories, with a total of 52 unique parts/color combinations.
Main colors are:
Main categories are:
Brickset list the RRP at $9.99, but Bricklink offers new sets as low as €5,75. I've got mine for €4,99. Price per part is 6.7 ct (RRP) or 3,3 ct (discount). The Bricklink Part-Out Value varies from US $20.18 (parts and spares) to US $20.80 (with instructions and box).
There are two unique parts:
1x Reddish Brown 3245cpr0135 - Brick 1 x 2 x 2 with Inside Stud Holder with Chewbacca Cross Bow Ammo Belt print
1x Reddish Brown 3245cpr0136 - Brick 1 x 2 x 2 with Inside Stud Holder with Shoulder Strap/Belt Chewbacca print
and four rare colors:
Note that the Medium Dark Flesh 15573 - Plate Special 1 x 2 with 1 Stud with Groove and Inside Stud Holder (Jumper), 15573 - Plate Special 1 x 2 with 1 Stud with Groove and Inside Stud Holder (Jumper) and 85984 - Slope 30° 1 x 2 x 2/3 have only occured within 41597-1 - Go Brick Me and 41608-1 - Han Solo (85984 also in 70657-1 - Ninjago City Docks), while the Reddish Brown 50950 - Slope Curved 3 x 1 No Studs only occured within 41597-1 - Go Brick Me, 41608-1 - Han Solo and 41609-1 - Chewbacca, so these part/color combinations is almost unique to the Brickheadz theme itself.
The Build
The build starts as usual, with hips, torso and hands just like most other Brickheadz builds. The head, however, is two plates higher then usual, and features an fun and intricate build, especially for the front face, and the left and right sides of the head. Together the back of the head, the build used four Reddish Brown wedges: 93604 - Wedge 3 x 4 x 2/3 Triple Curved Smooth.
Conclusion
I must admit, I really like Chewbacca. The color combination of Reddish Brown, Dark Brown and Medium Dark Flesh works perfectly, and the face is different enough to be instantly recognizable. Considering a Part-Out Value of twice the retail price (and four times the discount price) this is a really good buy. Provided, of course, you don't hate Brickheadz, or Star Wars, for that matter...
Take care,
Simon
In memoriam: Peter Mayhew
While working on this review, some really sad news was released: Peter Mayhew, the man who gave life to Chewbacca, is no longer with us.
The family of Peter Mayhew, with deep love and sadness, regrets to share the news that Peter has passed away. He left us the evening of April 30, 2019 with his family by his side in his North Texas home.
Peter was the man behind the mask of Chewbacca in the original Star Wars trilogy, episode 3 of the prequels, and the New Trilogy. He fought his way back from being wheelchair-bound to stand tall and portray Chewbacca once more in Star Wars: The Force Awakens. He also consulted on The Last Jedi in an attempt to teach his successor. He put his heart and soul into the role of Chewbacca and it showed in every frame of the films from his knock kneed running, firing his bowcaster from the hip, his bright blue eyes, down to each subtle movement of his head and mouth. [...] [2]
May the force be with him, forever!
References
[1] - Chewbacca (LEGOShop)
[2] - Peter Mayhew - The Wookiee Roars (Facebook)
Disclaimer: Anything said in this post is the opinion of the author and not The LEGO Group.
Parts- and build photographs by Simon (© 2019 Rebrickable)