EDIT MODE

Review: 30527-1 - Lucy vs. Alien Invader
LEGO bricks in small plastic bags have been with us for almost fifty years, but the real polybags were invented in 1983 and first appeared in some fast-food restaurant in Salt Lake City, Utah. Let me show you the Visual History of LEGO Polybags with a review of one of its latest examples. Beware though: reading this article might awaken your innate and ancient hunter!
Contents:
Introduction
In my review of last week, I promised that this week I would try to show you the history of the polybag, but before we do that, we need define more closely what we mean by "polybag". Within their boxes, LEGO uses Polypropylene (PP) (PP05) bags, a strong, tough, thermoplastic polymer with a high resistance to heat and a barrier to moisture. These bags make a crinkling sound when you handle them. Large parts are mostly packed in a softer plastic, made from Polyvinyl chloride (PVC) (PP03), that doesn't make any sound. Both kind of bags allow you to see the inside, and both have been used by LEGO to sell both loose parts and small models. Magazine gifts and Minifigures are usually packed in foil packs, better said aluminum laminated foil pouches, made from aluminum foil, polypropylene, and a polyester binder. Because of the foil, you can't see what's inside of them. So we have:
Soft plastic bags (PVC) with loose parts, in other words, spare part packs
Hard plastic bags (PP) with small buildable models, the "real" polybags
Foil packs with small buildable models (from magazines)
Foil packs with a single minifig (from magazines and Collectable Minifigure Sets)
Our friends at Brickset have tagged all of these with a Polybag tag, resulting in some 1,839 polybags. I think that is a bad idea, because it combines small buildable models with loose parts. So in Rebrickable, we are using the following tags:
Right now, we have about 1,275 Polybags, 236 Foil Packs, 444 Sparebags and 136 Bulk Bricks. It took me almost 12 hours to get all these tagged, and I am pretty sure I missed a few. So if you see a set that should be tagged with one of these tags, and it isn't, please submit a Change Request and help us make this awesome website even better... -smile-
Service Packs
LEGO started selling both loose parts and spare parts in boxes in 1950 in Denmark, and from 1953 also in Norway. By 1958, the 2xx series of spare part boxes was sold in continental European countries, while Denmark continued to sell bricks as individual parts available from the retailers.
In 1970 Britain and Australia began Mail-Order sales of parts, followed by the introduction of service packs, loose parts in plastic bags, in Italy and the Netherlands in 1977. By 1980 TLG produced regular service packs with the same names and contents for each European country. But the service packs in Brittain and Australia, the USA and Canada had a different content (usually more parts), and even content never released in Europe. In 1987, the International LEGO Service again reverted to similar content worldwide.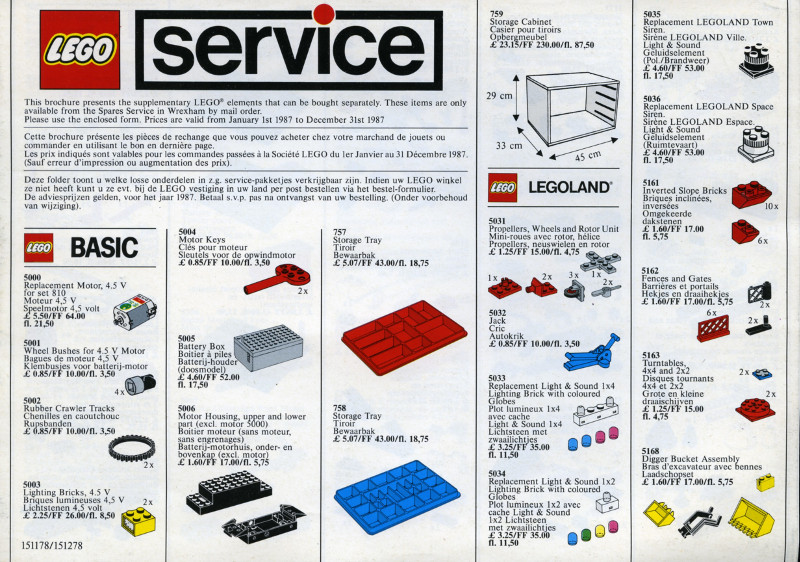 Officially, the service pack era ended on June 14th, 2000, when Brad Justus, Senior Vice President, announced a bulk bricks sales service called LEGO Direct through LEGO Shop at Home. (See Bulk Bricks.) However, LEGO Educational continued selling loose parts in polybags, like 2000456-1 - SPIKE Prime Marketing Kit from 2019.
The Start
Our story begins in a few selected McDonald's restaurants in Salt Lake City, Utah, in June, 1983, when LEGO test-marketed six small building sets, four classic sets (setnumbers 1912 through 1915) and two DUPLO sets (1918 and 1919), commonly recognized as the first ever small model builds in polybag packaging.
Probably later that year, the two missing setnumbers (1916 and 1917) were released, and the entire classic series was rereleased in the US in 1984 for an additional cost of 59 cents. This Building Set A/B/C/D series had similar content as the 1912/1915 sets, but used different package printing. The introduction proved highly succesful.
(Note that the A/B/C/D series is currently not in our database, while the 1912/1915 series is showing the 1984 packaging. I feel, even though the contents are the same, for collectors it would make sense to add the A/B/C/D as -2 sets, released in 1984 instead of 1983, and show the correct images for the 1912/1915 series. If you agree, please let me know.)
In 1985, LEGO introduced a second group of polybag sets in selected areas of Oklahoma. These so-called "Super Travelers" all had blue background packaging, and contained a minifigure. There were four of them, setnumbers 1546 through 1549 (unconfirmed), and Rebrickable only has two of them, sets 1546-1 - Airplane and 1548-2 - . The last in the series, presumingly 1549 is know at Bricklink as MC04-1. If anyone has an image of the missing two, please let me know.
LEGO also releases the first seasonal polybag, 1551-1 - Chick, a six part set asking the question "How many chicks can you build with these bricks?". Needless to say, it was an Eastern release. In 1987, the first Christmas polybags are added, 1555-1 - Santa Claus and 1556-1 - Christmas Hearts (no image available).
The Fabuland theme, which was introduced in 1979, was the first to be released in a theme related polybag. In 1986, set 1570-1 - included two Fabuland parts and a Fabuland character, fab4g - Fabuland Figure Dog. It is uncertain if this was the only figure included in the polybag, there might have been others.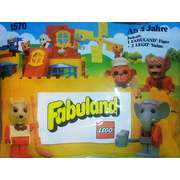 In 1987, the first Basic and System polybags appeared; a Giraffe, an Elephant, a Lion, a Snail, a Car and a Ship. The long standing relationship between TLG and Shell, which started in 1966 with set 325-3 - Shell Service Station lead to the first series of partnership polybags, a series of four sets with setnumbers 1467 through 1470.
In 1988, for as yet unknown reasons, the pace slowed down somewhat, and LEGO only released two polybags, 1612-1 - Race Car and set 1929-1 - Guardsman. The next year, 1989, however, sixteen polybags were released, half of which consisted of the LEGO Motion series, again a promotional release together with McDonalds, US. The series, numbered 1A/B through 4A/B featured Basic sets depicting race cars, airplanes, helicopters and boats. We also get two Weetabix sets, 1898-1 - Weetabix Dragster and 1899-1 - Weetabix Racer, and a series of seasonals, including 1625-1 - Snowman, 1626-1 - Angel and 1627-1 - Santa.
To view all polybags released between 1983 and 1989, use this link.
The Nineties
While the eighties got us about 42 polybags, during the next decade that amount nearly quadrupled to about 163. Following Basic and System polybag, from 1992 onward we got Pirate and Castle themed polybags, followed in 1994 by the Space theme. In 1995, within the DUPLO theme, LEGO released a series of polybags, which, by current standards, might be frowned upon, with setnumbers 5089 through 5091 depicting non-european families, followed in 1996 by a Causasian family.
In 1998 LEGO releases the first Advent Calendar which contains mostly builds that were previously released as polybags for Danone, Sabah and Condor promotions. That re-use of polybags in Advent Calenders would be repeated several times in the following years.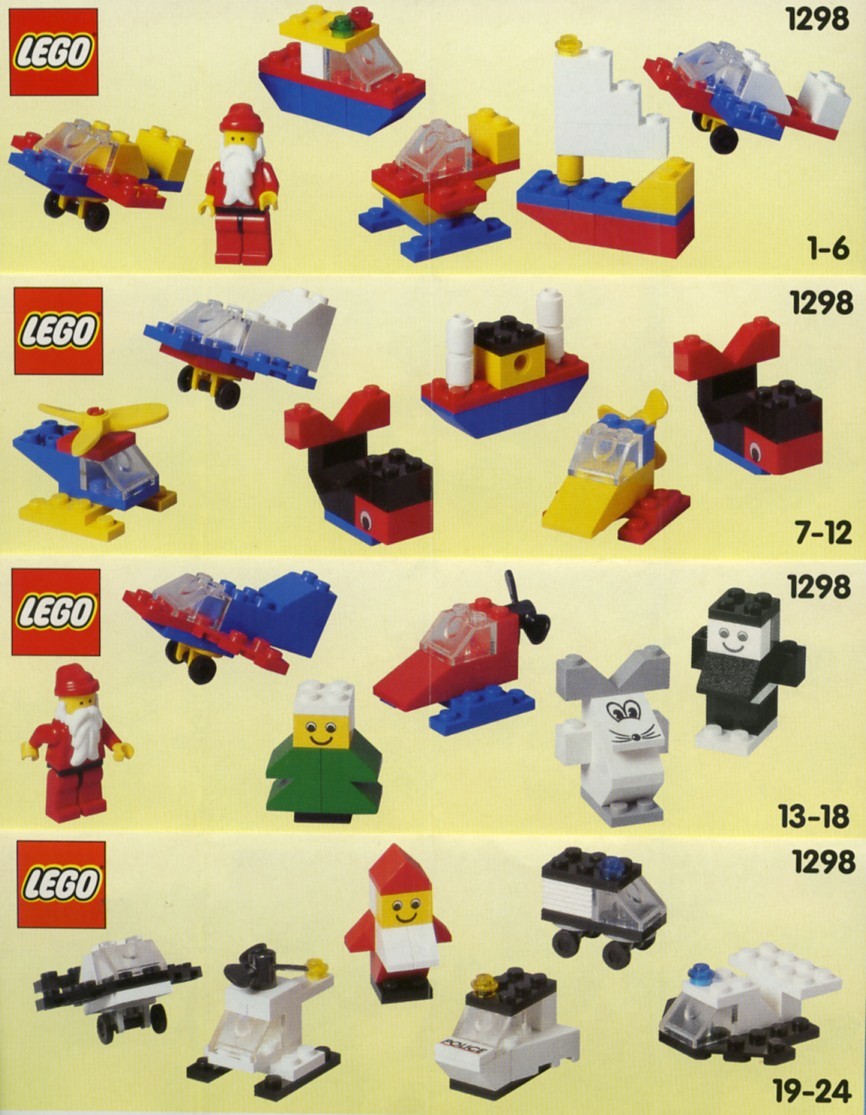 Here are some polybags used in the Advent Calender above. (Want a quiz? See if you can spot the others... and if you find some polybag re-used in an Advent Calender, let me know in the Comments.)
Also in 1998, in celebration of the World Football Cup, LEGO released a series of six polybags, featuring a Dutch, German, English, Austrian and World Team football player, as well as a Goalie. Two of these sets were also used as promotional releases with Kaufhof stores in Germany. Note that this is two years before the introduction of the LEGO Sports theme.
To view all polybags released between 1990 and 1999, use this link.
The New Millennium
Between 2000 and 2009 LEGO released about 391 polybags, again almost tripling the amount of new polybags released during the previous decade. In 2000, among many others, we got the first Technic polybags in a series a Kabaya Promotionals featuring four RoboRiders, and a series of actors and actresses within the Studios theme:
In 2001, among others, we got the first Dinosaurs, and the first Bionicle polybags in a McDonalds promotion.
In 2002, a Coca-Cola promotion in Japan to tie in with 2002 Football World Cup, resulted in a staggering series of 30 polybags:
In 2002, the Star Wars Mini subtheme was introduced which consisted of microscale models of Star Wars vehicles. The first Star Wars Mini set, 3219-1 - TIE Fighter - Mini contained only 12 parts, and was released as a polybag. The year after, LEGO released another eleven Star Wars Mini sets, all in regular boxes. However, from 2004 onward, many mini Star Wars models have been released as polybags, making Star Wars Mini polybags probably the most prefered sub-theme for polybag collecting.
To view all polybags released between 2000 and 2009, use this link.
Modern Polybags
From 2010 onwards, the total number and the variety of polybags has been increasing steadily. LEGO is still releasing the traditional LEGO themes DUPLO, Basic and System with small building sets, and have added polybags for licensed book and movie themes such as Marvel & DC Super Heroes, Disney, Lord of the Rings, The Hobbit, Harry Potter, and The LEGO/Batman/Ninjago Movies. For promotional purposed, the list of TLG's polybag corporate partners has grown steadily, and currently includes Coca Cola, Kabaya (Japan), Shell Oil (discontinued), Blockbuster Video, Ferrari, Volkswagen, Danone (Belgium), and several airlines including Lufthansa, SAS, Condor and ANA.
One series of small model builds that have been given away in soft plastic bags, but which should probably be considered seperate from polybags, are the Monthly Mini Model Builds, or MMMBs for short. Starting in 2008, LEGO organizes special building events in all the LEGO stores, where kids aged 6-14 may participate. They can watch the monthly model being built and then receive one for free. In many cases, they can build the model in the shop. Each store receives approximately 250 models, but as the official instructions are released online, and most of the parts used are rather common, fans world-wide can participate in the building experience.
Currently, we have 110 sets within the theme Monthly Mini Model Build, and I really think these small sets deserve a history of their own. If you are interested in such an article, let me know in the comments.
To view all polybags released between 2010 and 2019, use this link.
The Set
This set was a give-away at some theaters during the early screening of The LEGO Movie 2 on January 26, 2019. A few days later the set became available for purchase at Target, Walmart and other vendors. Here's an overview of the 2019 LEGO Movie 2 polybags.
The Bag
The bag measures 170 x 148 x 26 mm and weighs 40.8 gram. It contains 44 parts, 3 spare parts and the build instructions.
The Instructions
The instruction booklet (BI - Build Instructions 6268290) measures 20.2 x 27.3 cm and contains 2 pages and 11 steps.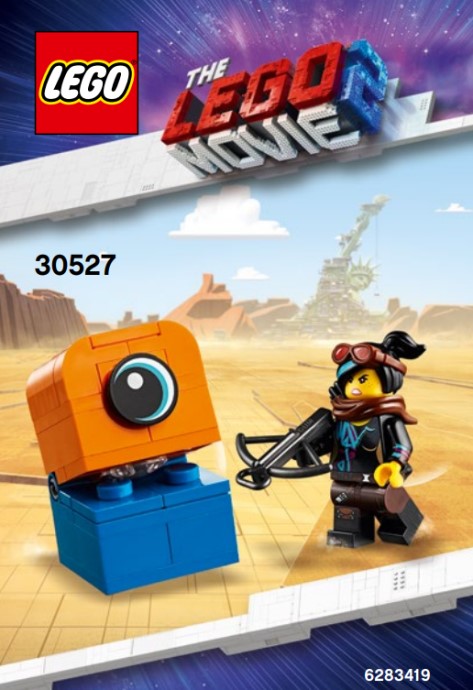 The pdf can be downloaded here.
The Parts
The set contains 44 parts and 3 spare parts, in 10 different colors, and 13 different categories, with a total of 25 unique parts/color combinations.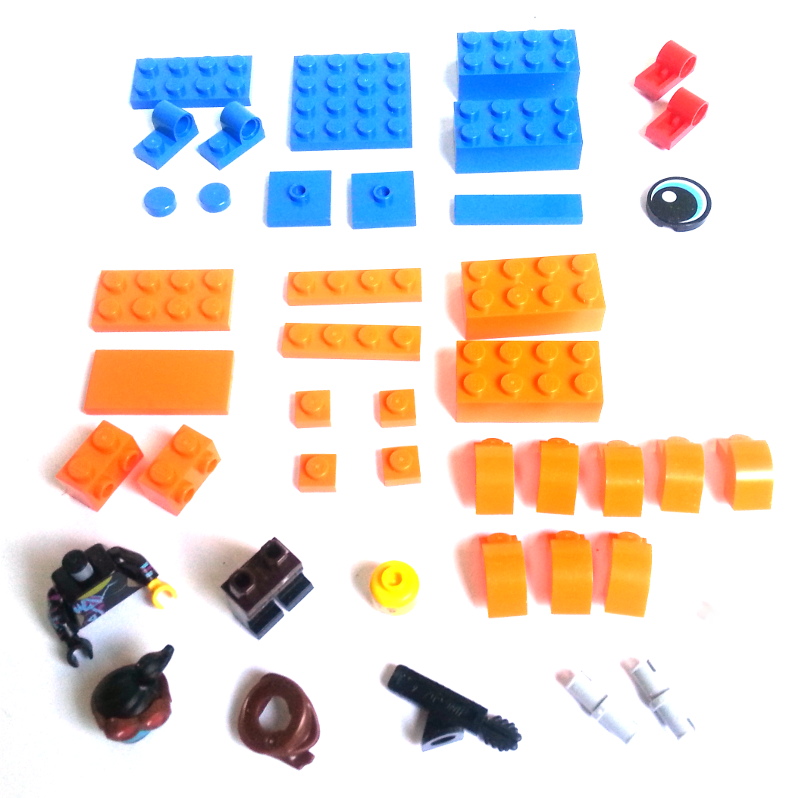 Main colors are:
Main categories are:
There are no unique parts, and two rare colors.
2x Orange 11211 - Brick Special 1 x 2 with Studs on 1 Side
1x Black 14769pr1114 - Tile Round 2 x 2 with Blue Eye print
The Build
The Alien Invader is this polybag looks similar to the one used in set 70827-1 - Ultrakatty and Warrior Lucy. However, that latter one contains a technic axle which allows its 'eye' it to rotate, whereas the alien in this polybag has a fixed eye. We also get an Lucy 'Wyldstyle' minifigure, in her brooding Apocalypseburg outfit:
This minifigure, known on Bricklink as tlm117 (Lucy Wyldstyle with Black Quiver, Reddish Brown Scarf and Goggles, Open Mouth Smile / Angry) has an average value of € 3,69 (new), and has appeared in the following sets:
Conclusion
I am not a collector myself, but I must admit, just by researching this history of polybags, there clearly is something of a hunter in me, and probably, in most of us. I am reminded of a remark I read a few weeks ago, about why people collect LEGO in general, or polybags in particular. I am quoting from memory, but someone said "It's not about the having, it's about the getting." I can really understand that, and even my hunt for information felt similar; it must indeed be exhilarating, after weeks or month of searching, to finally find that one treasured polybag.
If you are a polybag collector, I sincerely ask you to help us make our polybag collection as complete as possible. If you collect a certain theme, we can add theme tags to our polybags to allow easy access, and we're always happy to add more details to our setnotes to give you as much background information as we can. If you are that kind of a hunter, why not share your trophies. We will gladly hang them on our walls...
Take care,
Simon
Disclaimer: Anything said in this post is the opinion of the author and not The LEGO Group.
Most of my research is based on the current Rebrickable set catalog,
which is probably incomplete. If you want to be sure, do your own research.
Parts- and build photographs by Simon (© 2019 Rebrickable)