EDIT MODE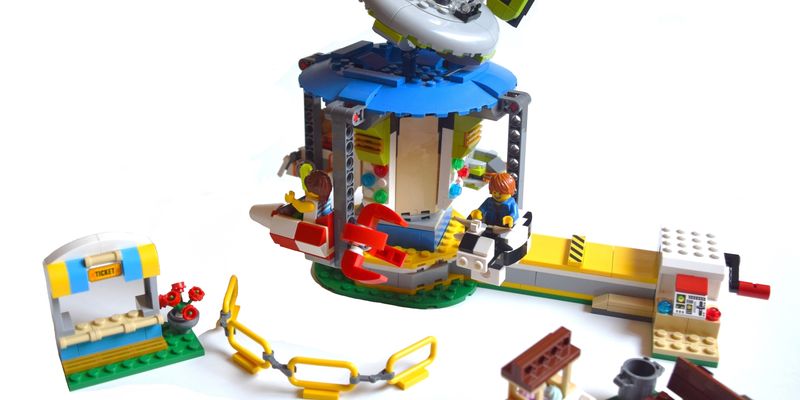 I consider Creator 3 in 1 sets to be the closest theme to what Rebrickable is all about. Here's some parts, what can you build. Of course, these sets have hundreds of hours put into them to curate the parts to fit all models but essentially they are fun, versatile, and full of parts to add to your own MOC's. I wonder if this is a play 3-in-1 or a parts-pack 3-in-1, I call riding in the cow!
Contents:
Background
Do you smell the popcorn and cotton candy? Because LEGO sure do. In 5 years there have been over 20 sets around the fairground concept. The best (and also most expensive) being the Creator Expert sets 10257-1, 10261-1, & 10247-1.
But there have been countless other great sets in themes ranging from Friends to City. Even Duplo have had several fairground themed sets. A recent 3-in-1 release, Pirate Roller Coaster, made it straight to my waitlist of sets to buy.
Personally, I'm a sucker for amusement parks. So this trend totally grabbed me. In fact the Friends Roller Coaster, and Hot Dog Stand sets even turned me into a Friends fan, a theme I had never given the time of day to before.
This set has a swinging carousel, a freefall drop ride, and a small ferris wheel. Each model decreasing in complexity and interest, but that's pretty common for 3-in-1 sets. I don't mean to sound harsh, I like all three models, but the C model is easily the worst. I'll break down (or build up?) each model below.
The Set
Create a world of magical fairground adventures with this LEGO® Creator 3in1 31095 Fairground Carousel playset, featuring a space-themed carousel model with UFO signage, plus a ticket stall, ice cream cart and park bench. Kids can choose between 4 suspended carriages, including a rocket, space shuttle, alien craft and a funny spotted cow, and then turn the red handle to see them rise into the air as the Carousel spins. With this LEGO Creator 3in1 toy construction set children can build and play with 3 different carnival rides. You can build the Carousel and then rebuild it into a Free Fall Ride or LEGO Ferris Wheel toy. Includes 3 minifigures, all ready for fun at the fair.
The Box
The box measures 485 x 280 x 60 mm. Inside are 6 unnumbered bags, instructions and a sticker sheet.
The Instructions
The instructions measures 203 x 180 mm. With 234 pages. A Model has 214 total building steps. B Model has 116 total building steps. C Model has 84 total building steps.
The pdf can be downloaded here.
The Parts
The set contains 595 parts and 30 spare parts, in 28 different colors, and 35 different categories, with a total of 224 unique parts/color combinations
As usual, most common colors are pretty dull, but this set does also contain alot of brighter colors like Red and Lime which definately gives the models an overall bright look..
Main colors are:
Main categories are:
Some really interesting parts in this set. No new parts, but some new colors, and a color not seen for a while.
Parts in new colors: Part 99206 in Lime has since been used in Set 75255-1 but was first seen in this set this year. Part 35480 in Lime is a new color for a relatively new part. First seen last year it already appears 771 times in 157 sets, in 12 colors (the uses in MOC's is even bigger!), it's had quite a introduction. Part 95188 in Blue is a surprise, sometimes you just assume parts exist in certain colors, could've sworn I had seen it in a spaceship somewhere. And lastly part 24599 in Light Bluish Gray, a newer part made for 2016's VW Beetles iconic wheel arches, LEGO have added 4 colors to it this year alone.
Parts in rare colors: Part 2450, seen once before in a 2010 World Racers set. And Part 6063, back in Yellow. When this part was first introduced in 1995 (in Set 6195-1) it was in Yellow. Since then other colors have come and gone, poor old Yellow was forgotten about. But now, after 24 years, we finally get it back.
This set comes with 3 minifigs. All parts have been seen before, but not before with this sets configuration.
The Build
The A Model: We begin with the peripheral models. The ticket booth is fit for purpose, and I like the Ice Cream Handcart. Not much to say about a bench, LEGO loves putting in benches. When I built it I assumed it was included because they needed the parts for the B or C models, but alas no, we just get a bench.
As we move onto the actual build you immediately feel how sturdy and solid the carousel is going to be. This is the most 'Technic-y' set my son has built, he's almost 5 and has only ever built with bricks and wheels. He loved seeing how the cogs and axels connected with each other.
The spaceship cars are easily my favourite bit. They bring to mind some of the best designs from popular culture. The Retro Rocket looks great and rotating tails is a nice touch. Another, as you start building it it looks just like a Millenium Falcon but it turns into a neat Alien Fighter style ship. The last ship heavily borrows from the Space Shuttle design, and has similarities to the Overwatch set 75975-1. Also we have a cow, with udders, the end.
The B Model: Proof that a model doesn't have to be complicated to be fun and effective. With a basic beam structure, the Drop Tower ride gradually rises with no flashy building techniques. The 'cab' that drops is bulky, but it does have to withstand quite a drop. Some of the design does suffer from 'B' model syndrome. The loading doors are clunky looking and fall off easily. But once the cab is attached you don't notice it's failings.
The Tower is topped off with that same retro rocket from the A model, this time made more static. Behind is the locking mechanism which holds the cab high, ready for you to release those poor minifigs when you see fit. Again, it's simple but works perfectly, and it really hits the bottom with a thud so it's impressive it stands up to the force. The model is joined by two carnival stalls, these are the definition of using up the parts. They aren't particularly interesting. The Ice Cream stand looks like something my son would build, and the carnival game offers no real playbility.
The C Model: The small Ferris wheel builds fast. But at it's core it is solid, smooth, and fun. Building the 4 cabs was a little repetitive as they use identical parts, with all the left over parts it would've been nice to have some variation like with the A model. And once finished the center, with the Transparent-Clear dome looking unfinished, you end up with a great ride. The rotation works really well. The model is fun to play with.
You also get to build a small ticket booth, which looks great with it's turnstile and random flower pot.
Conclusion
The A Model is great. The mechanics, the style, I loved all the little ships (and cow). Playbility is fantastic, and it fits perfectly with any other amusement park sets you may already have displayed.
The B Model is interesting. I like the action, and the rocket, but the side games, while fitting for the scene, aren't that interesting. And the actual falling car is really clunky, the loading doors specifically.
Lastly the C Model. As is common with C Models, this isn't spectacular. But its a solid Ferris Wheel, with a smooth action and a nice little ticket booth. It left alot of parts on the table though so there was definately space for something a little more elaborate.
I liked all three models alot. Would I buy three sets to keep each built, no, but I do recommend the set based on them alone. The set is great for more than that though. It contains some really great parts for adapting into other things. A great selection of brackets, in different colors and styles. Part 95188 in a new color is a nice addition, and a varied selection of panels, slopes, corner bricks, and the new 24599 Round Corner Brick in a new color too. Another reason I like it (and Creator 3-in-1's generally) is that it's obvious the money isn't going into Minifigures. The three provided are perfect for what you need.
Build on,
Jared Hinton
Disclaimer: This LEGO set was kindly provided for review by The LEGO Group. Anything said in this post is the opinion of the author and not The LEGO Group.
Parts- and build photographs by Jared Hinton (© 2019 Rebrickable)