EDIT MODE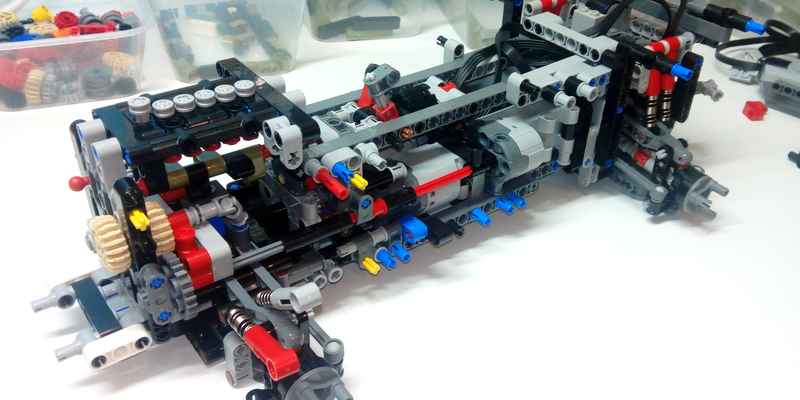 Today a mini-review. I'll be looking at MOC-30664 Custom RC 42110 Landrover Defender. This MOC is from the outside the same as the 42110-1 Landrover Defender, but underneath, PowerFunctions are added that make the model remote controlled. What I am most curious at, is the performance. The Landrover is not a small or light model. Will the 2 motors be enough to power the car?
The instructions and Build
The instructions are digital. That always takes a bit of getting used to for me. I prefer to look down at paper instead of forward to a screen. Technically, that could be solved with a tablet, but from the ones I have, the screens are small. So I settled for a laptop, on a low table, with the screen opened at maximum, making it almost horizontal. Building with instructions that are not made by LEGO, also takes a getting used to. Luckily, these instructions are of a good clear quality. First thing to notice during the build, is the speed at which you go through the instructions. No 1 part per page snail pace we see nowadays. This build reminds me of the times of the 8880-1 or 8480-1. 10+ parts per step are no exception here. I went for the 'get all parts for the step first, and keep building until they are all gone'. I really enjoyed that. It's challenging, it's time-consuming, and sometimes I had to tear something apart and rebuild, but nowhere was it frustrating or real guess-work. This way, at step 10, you already have this build.


The instructions are only for the modified chassis. Once that is build, you switch over to the original instructions to complete the bodywork, with a few small tweaks.
I ended up with this working chassis:

Performance
I can type a lot about the performance, but I think, videos are more useful here. At first, I tested the model as just the chassis. I must say I'm impressed by the handling of the model. It got a lot more speed than I expected. My experience with RC is limited to tracked vehicles so far.



As said above, the completed model is quite heavy. Let's see it it makes a difference.


As you can see, the added weight does slow the model down considerably. Using it as an off-roader seems to be out of the question. But in the video of the MOC designer, it does work. Appernatly there are some other factors that come into play
Conclusion
At first, some possible issues that I had with my version of this MOC. This model is supposed to be controlled by an SBrick. They are known for giving more power to the motors than the PowerFuntions IR units. Also, while I used fresh batteries in both tests, they are not premium quality. Not the cheapest either, but it could play a role. Also standard Alkaline batteries are known to drop in power fairly quickly. Recharable batteries keep their output more consistent until they're almost out. Some more information on power supplies can be found in this video from RacingBrick. In another video of RacingBrick is also explained that the V1 version of the IR receivers have trouble running 2 L-motors at the same time. So I took one extra test, hooking both L-motors up on different receivers and battery boxes. This gives a great improvement in performance.

So, it looks like all issues with performance are easily to explain and solve. I wish I had an SBrick for further testing, but for how much I use RC, the price is just not worth it (and I have the new Control+ elements already).
One last thing that could improve performance, but would lessen the build, is disconnecting disconnecting the fake engine. That must take some power to be driven. Also, removing some weight by for instance taking out the seats would help, but then it wouldn't be a complete model anymore.
To be clear: With the correct parts, the model will behave like in the video below. This review demonstrates the difference between standard PowerFunctions parts and the performance of SBrick.


So, is this modification worth the purchase of the instructions? I think that depends on what kind of builder you are. People that only display are of course not directly interested in adding remote control. For those who want an added play-feature, this does add a lot of play-fun to the original set. My kids love driving the model, and when they are happy, so am I. And it's a good way to push them toward Technic LEGO ;-)
Disclaimer: This MOC set was kindly provided for review by CustomBricks.de. Anything said in this post is the opinion of the author and not CustomBricks.de.
Parts- and build photographs by Tobymac (© 2019 Rebrickable)