EDIT MODE

LEGO Technic has been the most consistent theme in LEGO, producing sets for over 40 years. The Car Transporter is one of the bigger ones for the year, and posed me a question I have been ignoring since coming back to LEGO as an adult, "do I like building Technic sets?" Some of my fondest childhood memories of LEGO are Technic sets, I loved them. But after my 'dark ages' I never found the love for them again (probably something to do with the more complex looking studless models). I have avoided taking on reviews for Technic sets as I never felt qualified to give an opinion (leaving Tobymac to do all the Technic heavy lifting). But I can't put it off forever. So here's a review of the first major Technic set I have built in over 20 years.
Contents:
Background
Early Technic sets used the name 'Technical Sets'. It didn't take long for LEGO to adopt an official theme name and in 1982 Technic (the theme not the building system) was born. Tobymac recently reviewed a classic set (read here) where he discusses the difference between Studless Beams and Studded Beams. The shift happened around 2000. Before then the vast majority of sets were built with Technic Bricks (Studded Beams). My favorite sets as a kid were 8074-1 Universal Building Set with Flex System, and 8032-1 Universal Set. But my holy grail as a kid was 8880-1 Super Car, I would pour over it in the catalogue all the time, trying to figure out if I could build it with the parts I already had (where were you back then Rebrickable!!!), but alas I could never figure it out (obviously) and my Mum never got it for me. Today Technic boasts some of LEGO's best work, and the techniques have filtered to every corner of LEGO, it is also one of Rebrickable Users most popular themes to build MOCs with so the popularity is clear.
The Car Transporter is the 3rd largest Technic set released in 2019 but at 33" (86cm) long it takes the crown for the longest of the year (probably the longest ever released, let me know in the comments if you know a longer model). Not only did LEGO give us the transporter but it also gave us a really cool looking "non-brand" V8 car. It was also designed to be compatible with Set 42093-1 Chevrolet Corvette ZR1. I do not own that set so I couldn't show you what it looks like.
The Set
Introduce young LEGO® builders to the basics of engineering with this highly detailed LEGO Technic™ 42098 Car Transporter toy. This authentic replica model comes with a host of realistic features and functions for hours of play and design exploration. You can raise and lower the car decks and rear ramp for seamless navigation to the upper and lower levels, lock vehicles into position for safe transportation, and tilt the driver's cab to access a detailed V6 engine with moving pistons. This 2,493-piece building set also includes a blue car with working steering and V8 piston engine and is compatible in scale with the 42093 Chevrolet Corvette ZR1 (sold separately). It comes with a classic red, gray and black color scheme with stickers for additional detailing. Rebuild this 2-in-1 vehicle transporter to create the LEGO Technic Truck and Show Cars model.
The Box
The box measures 580 x 375 x 115 mm. Inside are 20 bags numbered 1 to 3, 2 unnumbered bags, an instruction manual, and a sticker sheet.
The Instructions
The instruction manual measures 270 x 195 mm. With 550 pages and 788 total build steps.
The pdf can be downloaded here.
The Parts
The set contains 2493 parts and 14 spares, in 16 colors, and 23 part categories, with a total of 191 unique parts/color combinations.
Main colors are:
Main categories are:
New-to-2019 parts:
Part 42531 in Dark Azure and Red for the first time ever, but the part made it's debut in 2019 as Orange in set 42093-1
Parts in new colors:
18945 has since been used in set 75252-1 but was seen in Red in this set first. (The part was introduced in 2015 in Yellow and White.)
56904 First introduced in 2009, it's taken a decade to get this part in Black.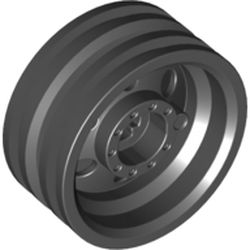 Rare Parts (appearing in 3 or less sets):
The Build
Bags 1: First we buid the car. It's a pretty standard Technic car. It has nice V8 engine action and steering. The panel-work gives the car a sleek overall look even though upon closer inspection has some 'rougher' edges. Not sure why they left the hood so open, it also creates a very (unnaturally) flat hood. The compatible Chevrolet Corvette ZR1 achevies a much nicer hood in this scale.
Overall this is a solid, simple build and would work very well as a standalone set around the $40-$50 price.
Bags 2: After building the car I was so excited to move onto the transporter, it really didn't take me long to discover why Technic remains so popular. It begins very similar to the car. The chassis is pretty basic, nothing groundbreaking. Then you start to build up, forming the bones of the cab. With very few panels on it really takes the form of a flat fronted european "Lorry" (Semi for our North American readers). Here's where alot of the stickers are used, helping to make the cab less monotonous.
As the ramps are added it becomes clearer how this model functions. Maybe it's my inexperience showing but up to now I was building in a state of wonder and disbelief. For the most part the ramps work fantastic, with breaking points to grip the car until you acheive full tilt. The only one that struggles is the one over the cab. I may have missed something to strengthen it (although I did go back over the instruction to make sure), but with the car on the very front (over the cab), it is too heavy to lift the ramp. If you place the car on it once it's lifted it is fine and holds the angle perfect.
Bags 3: The final part of the model, the trailer, is built. This is actually less repetitive than you would think. It doens't build anything like the flatbed of the truck. The rear ramps folds out to give a longer, thus less steep, ramp for your car. It is very effective but as my son discovered, it doesn't work too well on carpet.
B-Models
After much pursuasion my Son allowed me to dismantle the Car Transporter and build the B-Models. I was impressed with most of them. There are 4 separate models that together LEGO call Truck & Show Cars. Not really sure what that means but here's a breakdown. You get a large flatbed tow truck that utilises the A-Models car color scheme, a trailer that attaches to the truck, a hot rod (the car part of Truck & Show Cars), and a van thing. By my description you can probably tell which one I was less keen on. The van primarily felt like a what-can-we-do-with-all-these-beams model. And even then they couldn't fill in the whole roof. It has a nice opening back (which doesn't stay open, in the photo please ignore the orange parts I used to prop it open) but it hardly makes up for a weaker final model (that is neither a truck nor a show car). The hot rod is great, and the tow truck and trailer offer all the technic mechanics you want from a build.
Conclusion
I highly recommend this set. Not only because the builds are awesome but for sheer value for money this set is unequalled. It contains so many long beams and panels. At 7.2c per part (US price) you'll be hard pushed to find a better value set in 2019.
I have been totally transformed into a Technic fan. A theme I was ignoring (and feeling guilty about) is now the theme I'm most excited about. I was simply blown away at the complexity of the system. And I don't mean the complexity of the build. I mean how the parts and techniques offer a build experience that is neither predictable nor repetitive. Technic offers a build system you can't find anywhere else. Lots of other brands are copying LEGO's basic system but none have attempted a Technic copy, I think that just shows LEGO's brilliance. They are able to create these sets in a way that others just cant replicate and make profitable.
The actual model was a blast, it took me a few days (maybe 6-8 hours total) and even though parts seem delicate my 5 year old son has no problem playing with it. Other than the front ramp issue, my biggest issue is the side rails on the top level. The flexibility of the part means that they aren't straight. The distance between the posts isn't long enough to keep them taut. Real transporters probably use chains for railings instead of hard railings so they may be better represented by these flexible parts but they just look a little messy (especially visable when looking straight down the model).
The B Models make this set even better, adding playability for many many more hours.
I had so much fun making this set I'm already planning my next Technic purchase. I may even go on the hunt for my childhood holy grail, that Supercar.
Build on,
Jared
Disclaimer: This LEGO set was kindly provided for review by The LEGO Group. Anything said in this post is the opinion of the author and not The LEGO Group.
Parts- and build photographs by Jared Hinton (© 2019 Rebrickable)