Last modified March 11, 2019 by Nathan
Fixing MOC Inventory Errors
There are several types of errors that can show up in inventories when you are submitting a MOC. This guide will explain what they mean and how to resolve them.

Example MOC Inventory Errors
Missing Parts
If your MOC is an alternate build of a LEGO Set, all the parts in the MOC must exist in the parent set you have specified. Rebrickable automatically does a Build calculation in this scenario and highlights parts that do not match.
NOTE: during the submission phase, the highlighting of alternate builds is based on the parts existing in the parent set. Once the MOC is approved (or your MOC is not an alternate build) the highlighing of parts is based on the parts existing in your buildable LEGO collection.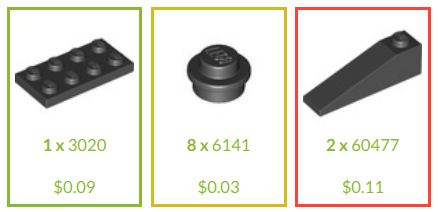 For all parts colored orange or red, you must edit the part details to remove the error. Do so by clicking the part so you see the popup details page. Rebrickable will attempt to show suggested parts based on similar parts in the parent set. Simply click on one of the suggested parts and Save. Clicking a suggested part will update the part number and color fields to that part. If no suggestions are shown, you will need to manually edit the part number, color and/or quantity.

Unknown Colors
Parts with the Unknown color usually occur when importing from a 3D file such as LEGO Digital Designer. In some cases, the colors used in the program are not configured in Rebrickable and so the Unknown Color is used instead. If you encounter these, please submit them as a Bug in the Forums, preferrably with your 3D file attached. That way, we can add a mapping for that color and future imports will work correctly.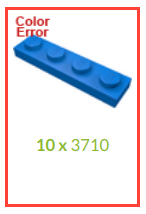 Fix these errors by simply editing the part and picking the correct color, then Save.
Part Errors
These errors occur on parts that have not been used in any official LEGO set inventories, according to the Rebrickable database. Often the reason is because there are several part numbers for the same physical part - perhaps with slight molding differences, or maybe just duplication. Sometimes it is because the part is normally inventoried as an assembled part with multiple sub-parts.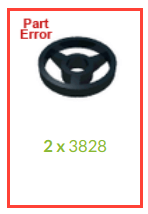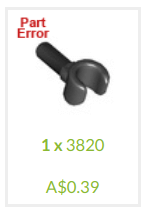 Fix these errors by editing the part and changing the part number to the correct one.
Color Errors
If the part is using a color that has not been used in any official LEGO set inventories, you will get the Color Error. It could be because the the color imported incorrectly, or because the part is actually the wrong one.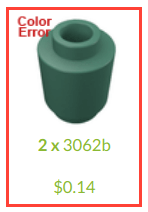 Fix these errors by editing the part and changing the color to a correct one.