Last modified Oct. 29, 2017 by Nathan
Set Lists
Rebrickable stores your owned LEGO Sets (i.e. official boxed sets of parts) grouped within Set Lists. This helps you categorise your collection, and some Rebrickable features operate at the Set List level.
Set = Official LEGO boxed set of parts
Set List = A way for Rebrickable to organise your LEGO Sets into lists that you can manipulate.
How you categorise your Sets into Set Lists is up to you, and you can always shuffle things around later. It's fine to store all your Sets in a single Set List too.
You need at least one Set List before you can start adding Sets to your collection. Go to MY LEGO > My Set Lists and click the Add new Set List button.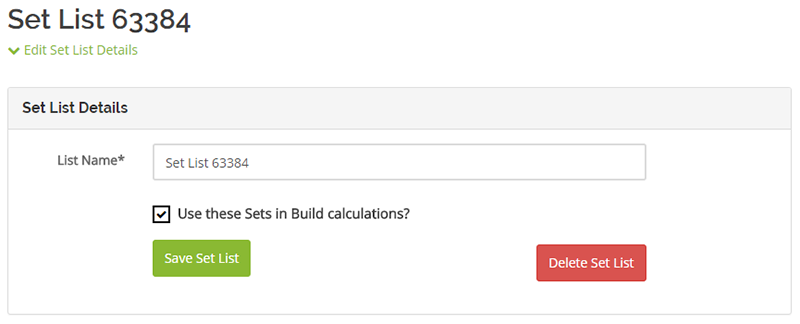 A new Set List
You can then edit it to change it's name, and decide if you want the Sets in this Set List to be used in Build calculations.
Adding Sets to Set Lists
There are five different methods to add Sets to your Set Lists.
1. Known Set Number or Name
If you already know the number or name of a Set, you can use the Add Set button at the top of a specific Set List page. Simply type in at least 3 digits/characters and pick from the drop down list of suggestions. Then hit the Add Set button.

Add Set button
2. Search for Sets and add them manually
You can use Rebrickable's Search Sets page to find the Set you are after, and click it's icon to add the Set to one of your Set Lists.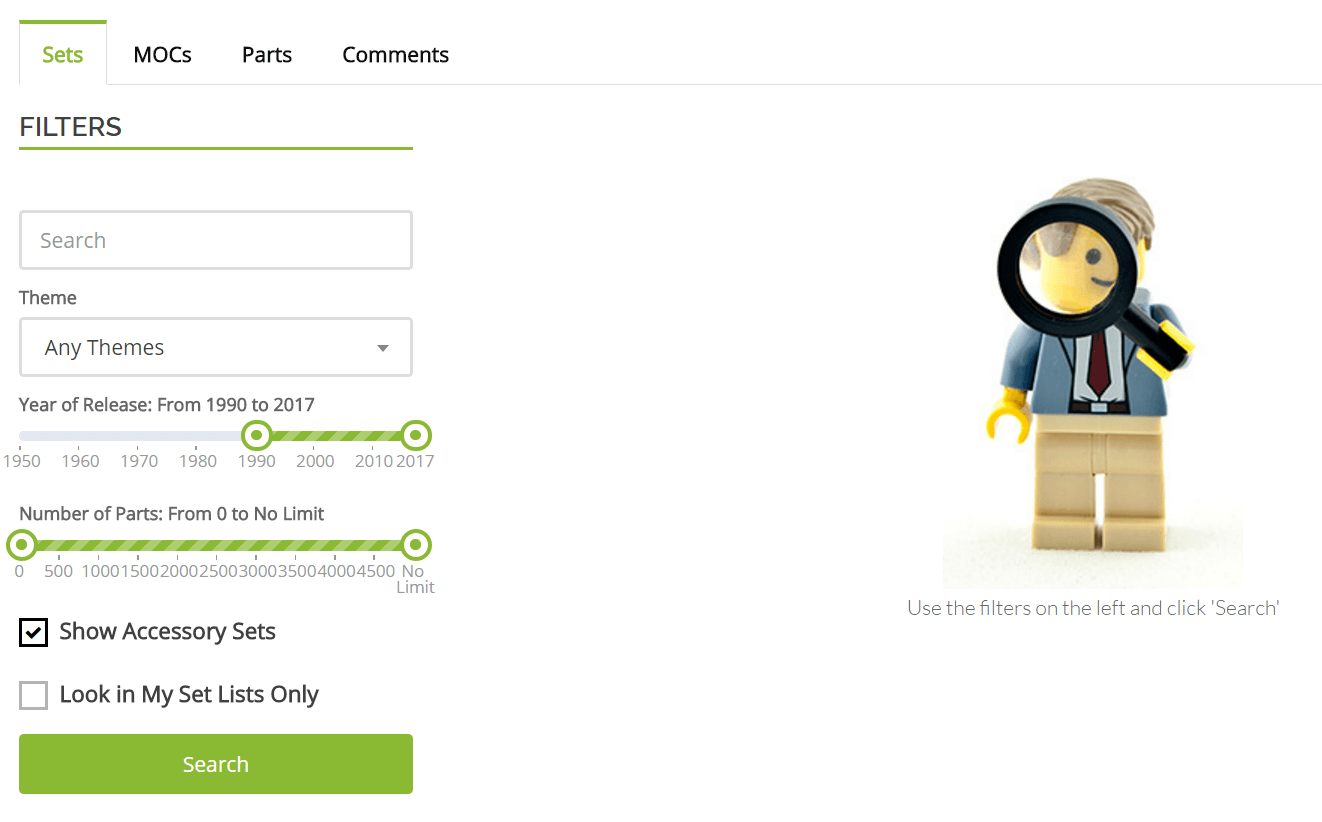 Search for your Sets
If there are multiple search results, they will be listed. Find your Set and click the icon shown below to add it to a List.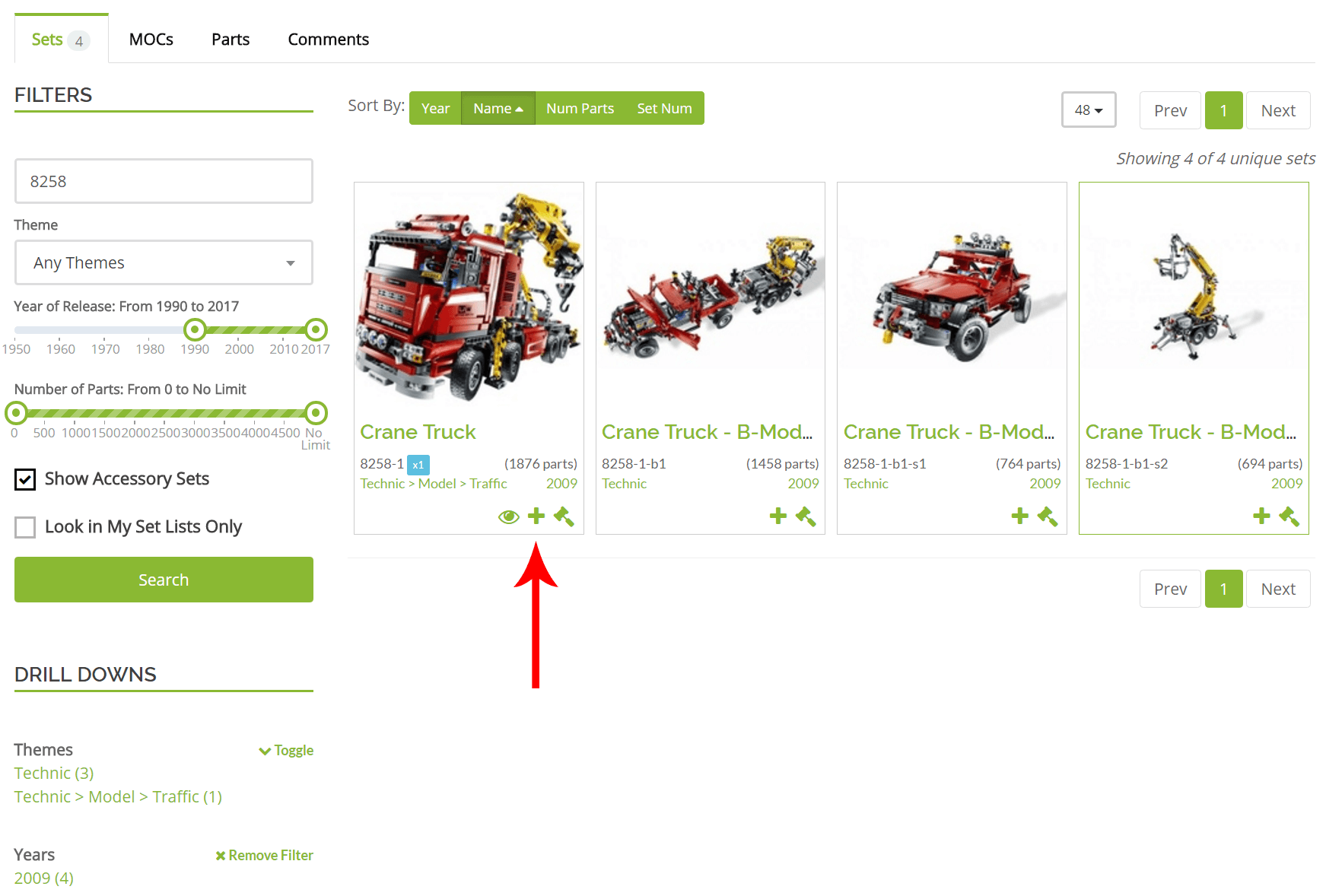 Search for your Sets
In the popup, select the Set List you want and click the Add Set button.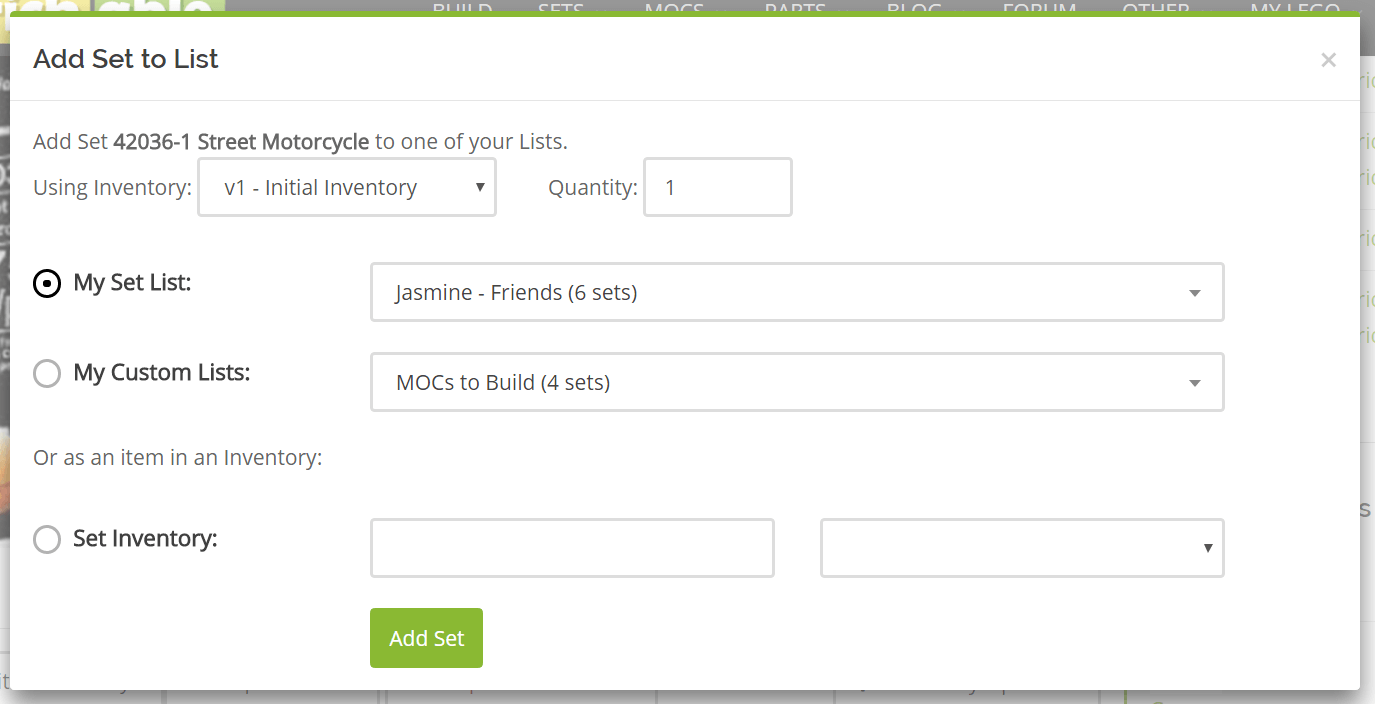 Add Set to a List
If there was only one search result, you are redirected to that Set's details page. Scroll down and click the Add Set to List/Inv button as shown below.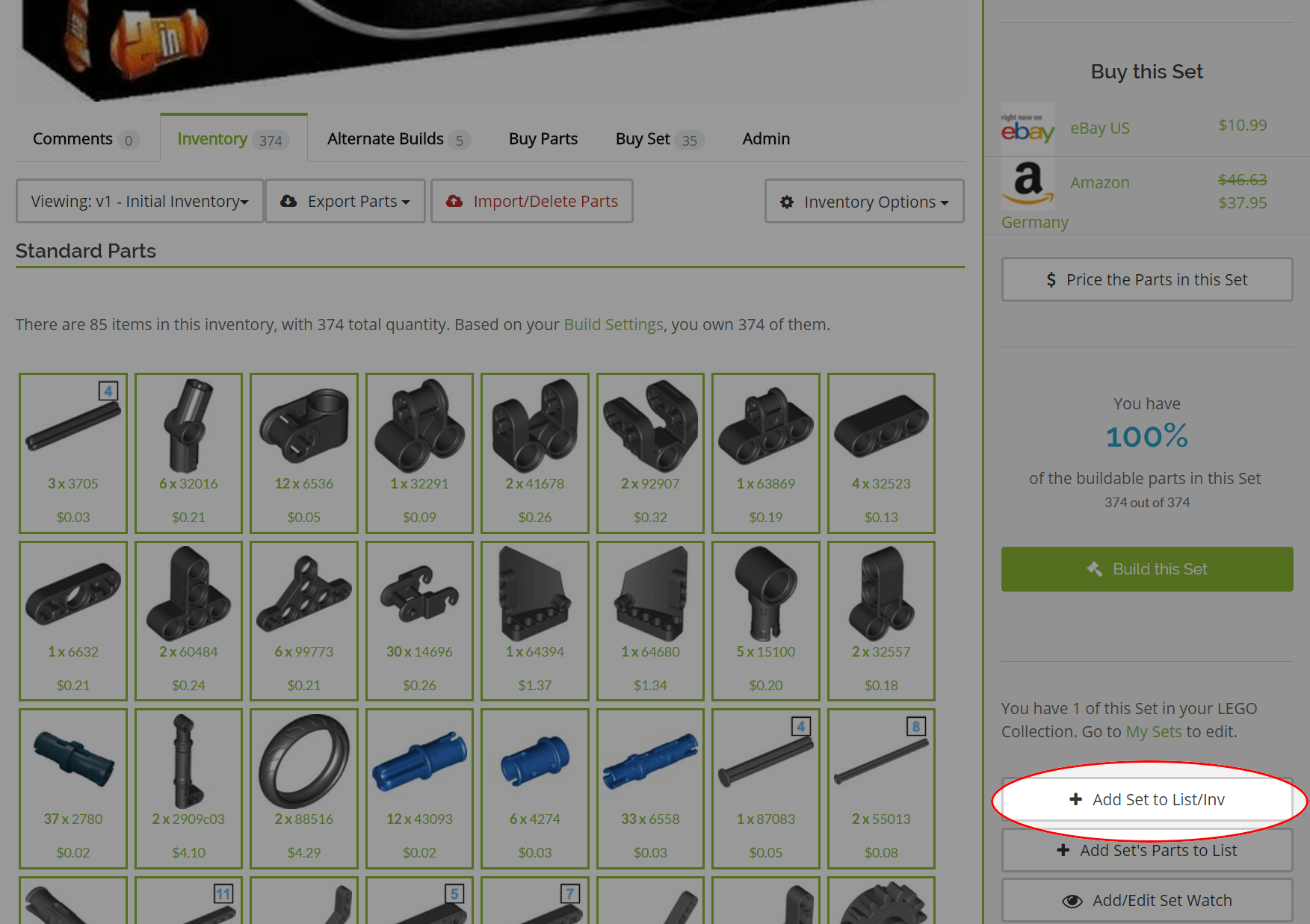 Search for your Sets
From there you will see the same popup as shown above to add the Set to a Set List.
3. Sync Sets from Brickset
If you currently use Brickset to store all your LEGO Sets, this is the easiest method to get started. Click the Sync Sets FROM Brickset button on your My Set Lists page.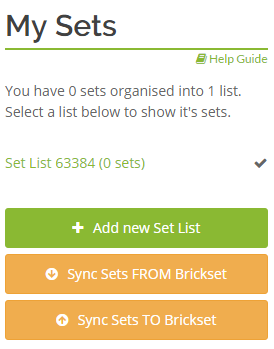 A new Set List
Enter your Brickset logon details (Rebrickable will not save these details, but can optionally save your Brickset user hash token).
Sync Sets FROM Brickset
Choose a Set List and click Import My Brickset Sets. Note, this can take a few minutes if you have hundreds of LEGO Sets.
If you want to add more Set Lists to better organise your collection, you can do so now. To move a Set to a different Set List, click the Edit the Set icon. From here you can pick a new Set List to move it to, as well as change things like the quantity you have.
Note that you can re-run the Sync Sets FROM Brickset at any time, and it will keep the existing Sets within their existing Set Lists.
You can use Brickset as your master LEGO collection by continuing to use the Sync Sets FROM Brickset button, or you can use Rebrickable as your master LEGO collection and use the Sync Sets TO Brickset to keep Brickset up to date after you modify Rebrickable.
4. Import Sets from external websites (Brickset or BrickOwl)
You can import Sets directly into a specific Set List via the Import/Delete Sets button.
Brickset - import the Sets from your collection
BrickOwl - import Sets from an order you placed there
5. Import Sets from File
The Import/Delete Sets button on an individual Set List will also let you import from a file. The file can be from another website (e.g. Brickset CSV file), or you can create your own file and import it - as long as you have CSV headers for the following fields (in any order): set number, quantity. For example:
Set Number,Quantity
497-1,1
8043-1,2