Hogwart's Castle (71043) Epic Extension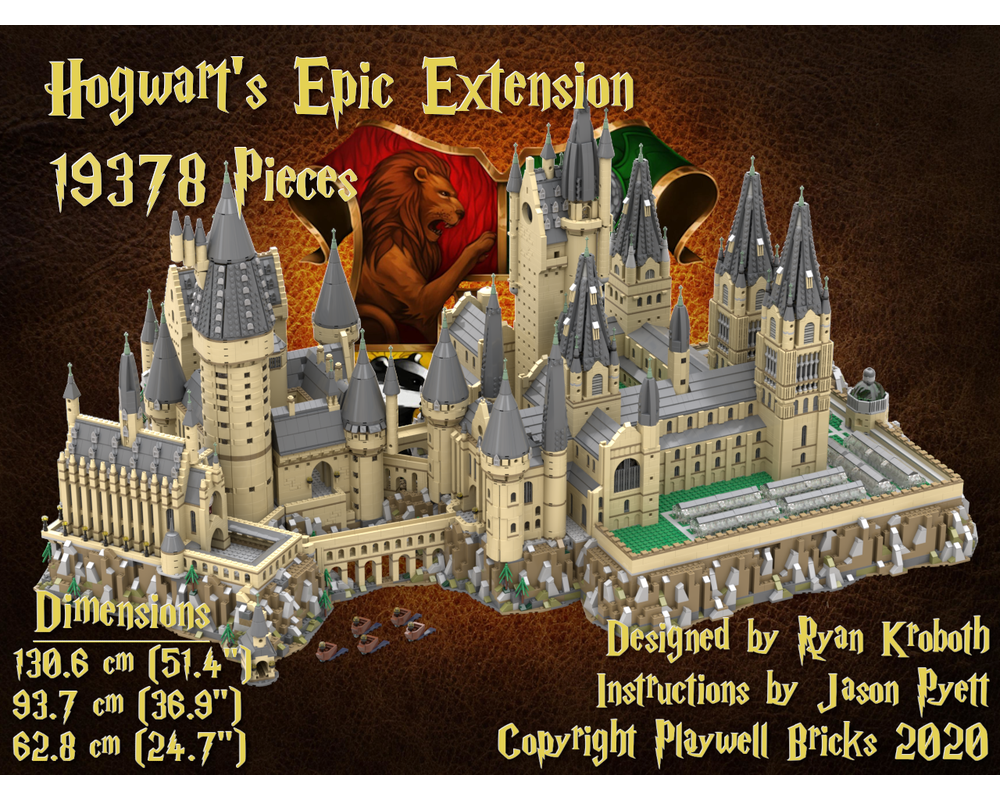 Lego did an amazing job with the design of Hogwart's Castle, but Harry Potter fans wanted more. Ryan Kroboth delivered with his epic extension to the castle.
Ryan did a fantastic job with this design, filling it full of detail and adding in all the buildings not originally found in the main set. He seamlessly integrated the original set into his expanded design, so you can't tell where one begins and the other ends.
I was contacted by a client to make step by step instructions for this design. And with Ryan's permission I can now make those available to all the Harry Potter fans who want to make their Hogwart's set truly amazing!
The step by step instructions come in two parts with a total of over 3000 pages! 
There are three digital files, to help you navigate the design easier. One with the small part of the extension and one with the large section, as well as one showing the design all together so you can see how the parts fit with the original model.

Directions to the Step by Step Instructions, open the file. Click the Tool menu, then Instruction maker. You can either follow the directions in the Page Design tab from there or export the directions to a PDF.

Note: Some of the parts in Ryan's original design are older versions of parts. You will want to change those to currently available parts when you make your part orders, as this will significantly lower the cost of those parts.



As all fan designers I do this for the passion of Lego but do need to pay the bills like everyone else. If you do buy these instructions, please do not share them out. The cost in low enough to allow any who wish to own it to do so. Thank you.



More images of the Hogwart's Extension can be found on my Flickr Feed or FB page
Flickr -> 
https://www.flickr.com/photos/playwell_bricks/albums/72157711591902656
Facebook Page -> 
https://www.facebook.com/AwesomeLegoDad/
I am available for custom Lego designs.
(c)2019 Jason Pyett


FAQ



"

Do you have an estimate of the size/measurements (Height x Width x Depth)"


Width 130.6 cm (51.4 in) Length 93.7 cm (36.9 in) Height 62.8 cm (24.7 in)



"The part count of 19k on Rebrickable, is that including the 6k of the original Lego set 71043?"
The 19k in parts does not include the original set
"
Are there any base plates included in the extended part of the build?"
No, there are no base plates in the design.

"Any stickers, printed bricks, hard-to-find pieces or customized parts used in the extended buildings"
There are some hard to find pieces. There are some pieces where the original designer used out of date parts, but those can be substituted for currently available parts.

"Can the 1x2x5 Brick Blue by Qty 241 and Technic Brick 6x8 Open Center by Qty 167, are these colour specific or can they be any colour"

They can be any colour as they just form the sub structure.

"Are there any other parts or colours that con be substituted for any colour. Just trying to reduce cost of parts?"



I am sure there are, for instance the large lbg plates under the large extension could be switched out with no visible effect. 
I would suggest going through and checking out the sub structure in the sub models and see which parts could be swapped out that would not change the exterior colours.
There are also some older parts that can be swapped out for newer versions as well, making them a bit cheaper, Bricklink will probably catch most of those for you.



"How much would the parts cost and how many Hogwart's sets should I buy to complete this?"

A very nice member in a facebook group did the cost breakdown in Canadian dollars


Attila Szabo "So I did some research. For 19275 parts on BrickLink using only Canadian vendors the cost would be $2292 plus shipping from multiple vendors. I then deducted the useable parts from 71043 (since I own one) leaving 15343 parts to order. BrickLink was then $1780 plus shipping from a bunch of vendors. So about $512 cheaper. So kind of makes sense to do this as you end up with a couple thousand leftover parts from 71043. Adding in another 71043 set only got the price down to $1557 plus shipping, so only saving $223. So it seems like one 71043 set is optimum."

Thanks Attila!
"Would it perhaps be possible to share/add one example page of how the PDF instructions out of Stud.io would look like?"

Page Sample of the Hogwarts Instrustions by Jason Pyett, on Flickr
Already have some of the parts? Use the
Build this MOC
page to only show the parts you are missing.
Waiting for Inventory to load
Please Log In
Sorry, but you need to be logged in to buy these instructions so that you can download them again at any time.
Login
or quickly signup using the form below.
Use BrickLink's Stud.io to open these files.