Porsche F1 Racer v2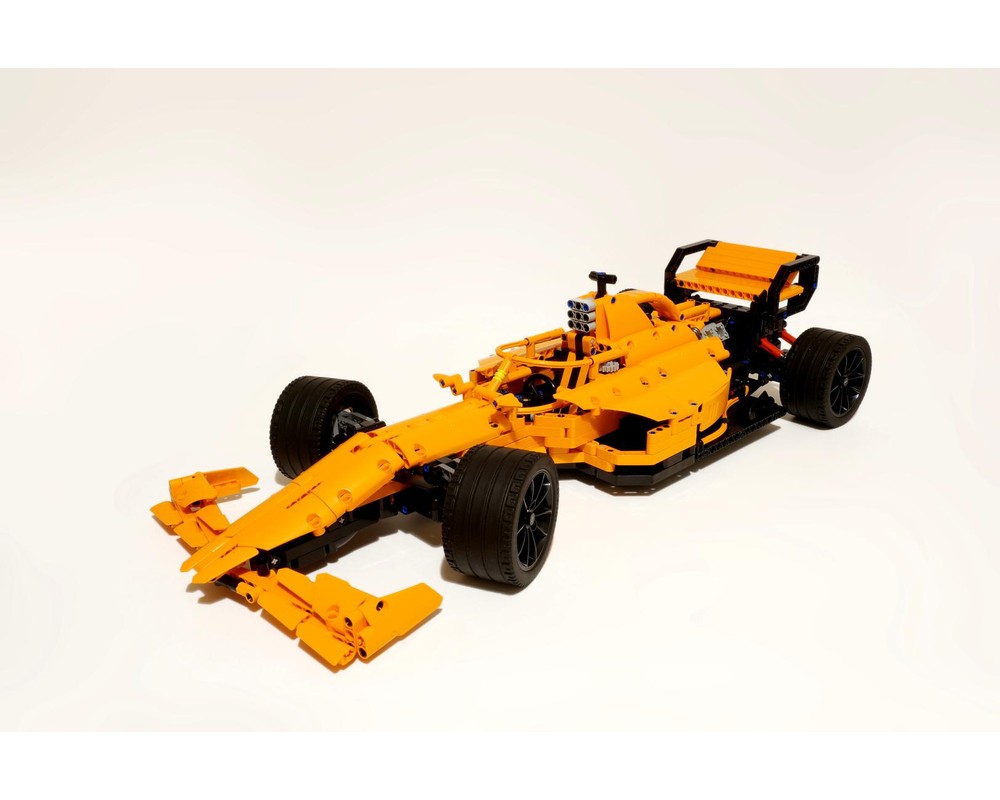 Porsche F1 Racer v2
This is the second edition of the
Porsche F1 racer
. It comes with several improvements and some new design desicions as well as more details in general.
The following features are included:
- steering with wheel
- independent front and back suspension
- 4 gears (only forward)
- paddle gear shifting
- differential in back axle
- V6 fake engine
-
rear covering can be opened and closed over multiple gears (new)
The gearbox is quite similar to the one in the porsche because of the flat system. The paddle system for the gear shifting is inspired by the bugatti system.
Changes according to the previous version
In the first version the front suspension was way too soft. In this version it is slightly harder. At the same time the back suspension becomes a bit softers. Thus, they fit better together and in my opinion this works very well.
The steering axle was fixed by only one pin and the surrounding liftarms. Although, I had never problems, the axle is fixed with additional linker now.
The shifting was sometimes a bit jerky. In the new construction I did not fixed the top part of the shifting with the bodypart. For this reason the part is more flexible and can be slightly bend during shifting, which works much better in my opinion, but maybe it is only a personal feeling. Let me know what you think.
Some internal parts became more stable in the new version.
I added more details and I changed the look of some covering parts. Many of these changes are inspired by images that I saw from other people who modified my first version. Let me know what you think about these changes. However, in principle, most of you are able to decide which changes they pick from which model and can modify the car according to this. For this reason I decided to publish this version as new model instead to update the first version.
Last but not least and in my eyes the highlight of the new model is the way how you can lift the rear covering part. I tried here multiple possibilities to place the gear or a crank in the cockpit. Due to the head protection this was quite difficult and I end up with the current solution, which is still a bit unhandy. You should take care during the build that the covering parts do not get jam that much.
Acknowledgements
I would like to thank all the kind people on rebrickable that inspired me for this second edition of the F1 racer. In particular the ideas by szymanski1991, aliosha, EVILMONKEY, tiyoyo, and srieff had a major impact on my design decisions.
Many thanks to all of you
Already have some of the parts? Use the
Build this MOC
page to only show the parts you are missing.
Waiting for Inventory to load