B-Train Rocky Mountain Double Flatbed Trailer Combination with Forklift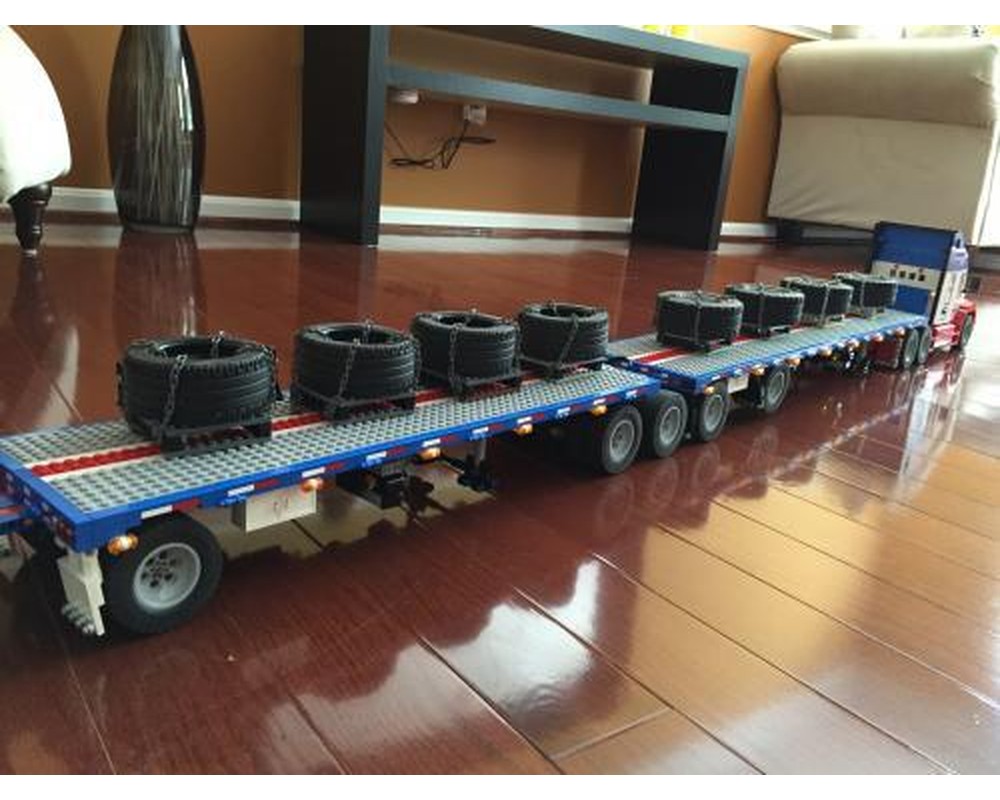 A 1:18 scale Lego Flatbed Rocky Montain Double B-train trailer combination with attachable forklift.

This started out as a build of a simple flatbed trailer to go with a 1:18 scale semi-truck. The original build had an elevator at the rear which was inspired by Madoca's wing-body truck. Midway through the build I found myself watching the show "Highway Thru Hell" which is about a big rig towing company and shows alot of very long B-train trailers. Deciding that a single standard flat bed trailer was too original, I decided to build a Rocky Mountain double B-train trailer combination. Midway through the build I found that Ingmar (2LegoOrNot2Lego) had previously published a very nice two-trailer combination with a different means of coupling the two trailers. The side alternating red/white markings are inspired by his series of trailers. Then one day during the build, I saw a flatbed truck go by my house with a mounted forklift attached to the back, and so I thought it would be really cool to add a compact lego forklift to make this trailer combination a bit more unique. Sticking the forklift at the rear, I didn't want to discard the elevator, which worked pretty well, so I moved the elevator to the side of the trailer.

I use this trailer combination with my 1:18 scale Kenworth T680 truck.

A few things about the forklift. In an effort to make it small so it can fit on the back of either trailer, the playability ended up coming short of what I originally envisioned. The forklift steers quite poorly when trying to maneuver with a pallet that has any weight on top of it. This is because there is not enough counterweight in the back, which would cause the steerable wheel to track better. Attaching it to the back of the trailer involves manual mounting of two brackets within the forklift body to restrict the motion of the forks. It then needs to be manually pushed into the trailer's frame for transport. However, it can still be used to load or unload pallets onto the trailer without any human hand assistance.
Already have some of the parts? Use the
Build this MOC
page to only show the parts you are missing.
Waiting for Inventory to load
These types of files are created with the LDraw system of software. You will need to install compatible software to open and view the instructions. A full list of available software is on the LDraw site.
This MOC also has a 3D digital file available (eg LDD, MPD, etc): 3D Model